»

Recipes

»

Pulse

»

Corn And Black Bean Wraps
Corn And Black Bean Wraps Recipe
Wrap up your dinner quandary with a fiesta of 6 ingredients and a few minutes' assembly.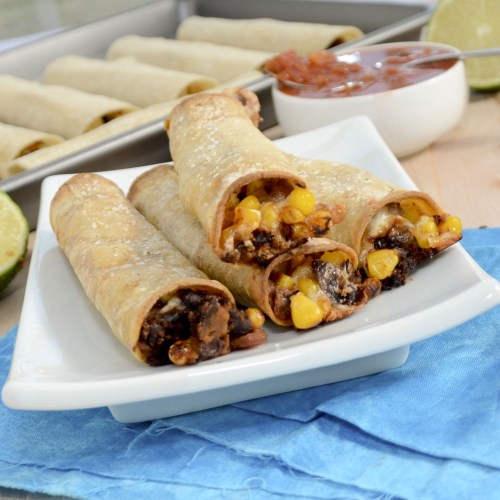 Ingredients
Progresso black beans

15 Ounce

(Drained, Rinsed)

Green giant mexican kernel corn

11 Ounce

(With Red And Green Peppers, Drained)

Shredded monterey jack cheese

2 Ounce

Chopped cilantro

1⁄4 Cup (4 tbs)

Jalapeno flour tortillas

4

(8 To 10 Inch In Diameter)

Salsa

1 Cup (16 tbs)

(Old El Paso)

Salsa

1 Cup (16 tbs)

(Old El Paso)
Nutrition Facts
Serving size
Calories 492 Calories from Fat 71
% Daily Value*
Total Fat 8 g13.1%
Saturated Fat 3.3 g16.4%
Trans Fat 0 g
Cholesterol 12.5 mg4.2%
Sodium 1299.5 mg54.1%
Total Carbohydrates 109 g36.5%
Dietary Fiber 44 g176.2%
Sugars 15.4 g
Protein 34 g68.3%
Vitamin A 18.5% Vitamin C 19.2%
Calcium 30.2% Iron 38.7%
*Based on a 2000 Calorie diet
Directions
1. Heat oven to 350ºF. Mix beans, corn, cheese, cilantro and 1/4 cup salsa in medium bowl.
2. Spoon one-fourth of the bean mixture down center of each tortilla. Roll up each tortilla; wrap each in aluminum foil. Place on cookie sheet.
3. Bake about 10 minutes or until thoroughly heated and cheese is melted. Serve with additional salsa.