»

Recipes

»

Beef

»

Coriander Dusted Roast Beef
Coriander Dusted Roast Beef Recipe
Save half of this roast and some of the gravy to make beef stroganoff, beef salad or beef fajitas with the leftovers.
Plus: More Beef Recipes and Tips
Picture Credit: Yunhee Kim
Recipe By: Grace Parisi
Pairing Notes: Dark-fruited Zinfandel.
For more recipes, please visit Foodandwine.com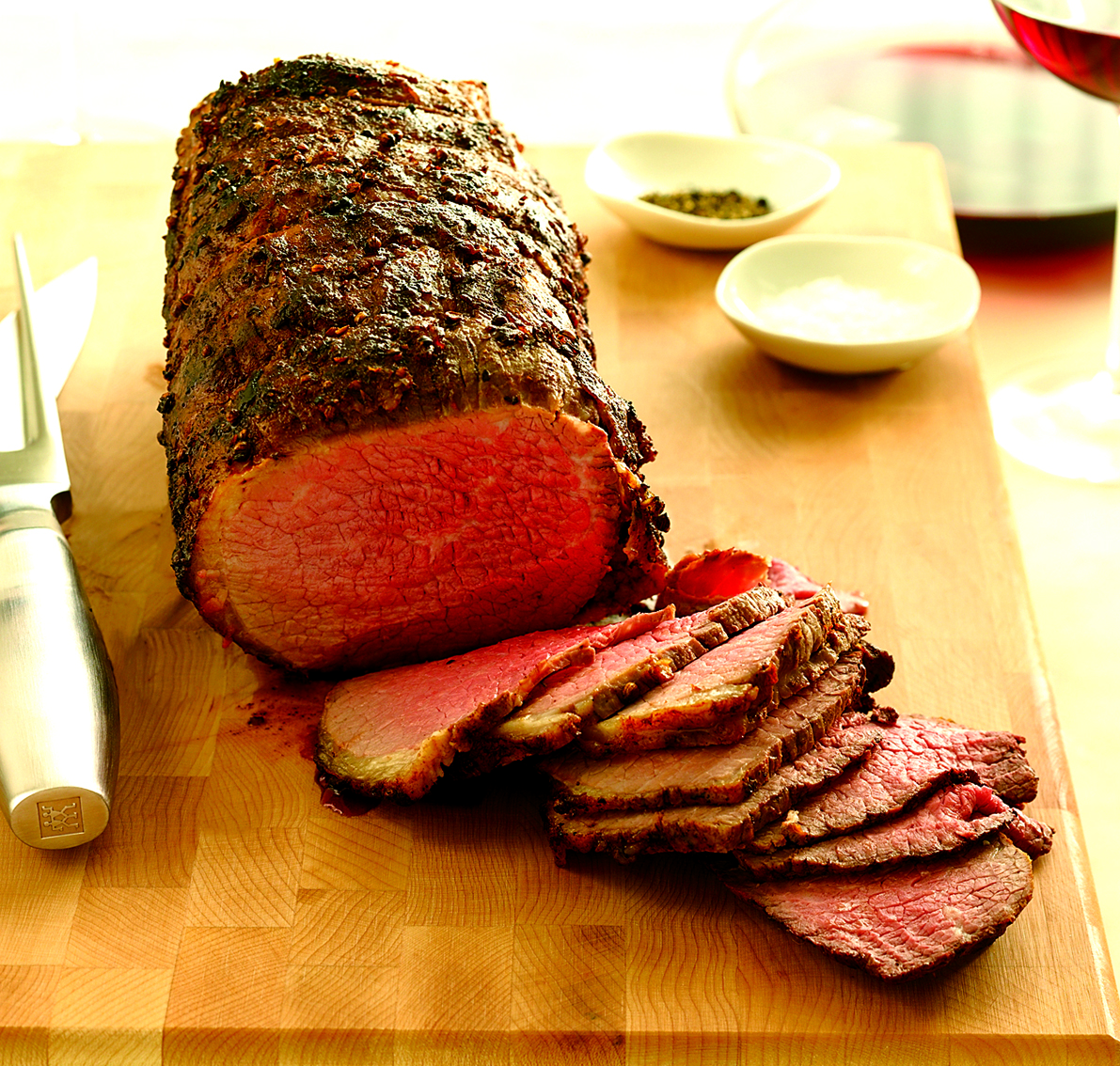 Summary
Difficulty Level
Medium
Health Index
Healthy
Ingredients
Beef eye round roast

3 3⁄4 Pound

(1 Whole)

Extra virgin olive oil

2 Tablespoon

Whole coriander seeds

1 Tablespoon

, coarsely ground

Sweet paprika

1 Teaspoon

Kosher salt

To Taste

Freshly ground pepper

To Taste

All purpose flour

1 1⁄2 Tablespoon

Beef stock

2 Cup (32 tbs)

(Preferably Homemade)
Nutrition Facts
Serving size
Calories 323 Calories from Fat 93
% Daily Value*
Total Fat 10 g15.8%
Saturated Fat 0.25 g1.2%
Trans Fat 0 g
Cholesterol 0 mg
Sodium 197.5 mg8.2%
Total Carbohydrates 3 g1.1%
Dietary Fiber 0.72 g2.9%
Sugars 0.3 g
Protein 51 g102.5%
Vitamin A 0.01% Vitamin C 0.56%
Calcium 1.5% Iron 2.8%
*Based on a 2000 Calorie diet
Directions
1. Preheat the oven to 350°. Rub the roast with 1 tablespoon of the olive oil. In a small bowl, combine the ground coriander seeds and paprika with 2 teaspoons of kosher salt and 1 teaspoon of pepper. Rub the spice blend all over the roast.
2. In a medium roasting pan, heat the remaining 1 tablespoon of olive oil. Add the roast and brown it well on all sides over moderate heat, turning with tongs, about 5 minutes. Turn the roast fat side up. Transfer the pan to the oven and roast the meat for 35 minutes, or until an instant-read thermometer inserted in the thinner end registers 120° for medium-rare meat. Transfer the roast to a cutting board and let rest for 20 minutes.
3. Set the roasting pan on the stove over high heat. Add the flour and cook for 2 minutes, whisking constantly. Add the stock and boil, whisking, until the gravy has thickened, 2 minutes. Season with salt and pepper. Slice the roast 1/4 inch thick and serve with the gravy.