»

Recipes

»

Scallop

»

Coquilles St. Jacques
Coquilles St. Jacques Recipe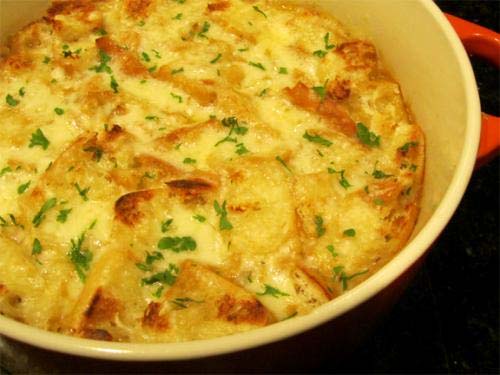 Ingredients
Water

175 Milliliter

(3/4 Cup)

Sauterne

1⁄4 Cup (4 tbs)

Salt

1⁄2 Teaspoon

Cayenne

1 Pinch

Scallops

3⁄4 Pound

(Fresh Or Frozen)

Butter

30 Milliliter

(2 Tablespoon)

Onion

1 Small

, minced

Garlic

1⁄2 Clove (2.5 gm)

, minced

Flour

30 Milliliter

(2 Tablespoon)

Grated lemon rind

1⁄4 Teaspoon

Egg yolk

1

Cereal cream

1⁄2 Cup (8 tbs)

Chopped parsley

15 Milliliter

(1 Tablespoon)

Buttered soft bread crumbs

3⁄4 Cup (12 tbs)

Grated parmesan cheese

30 Milliliter

(2 Tablespoon)
Nutrition Facts
Serving size: Complete recipe
Calories 1106 Calories from Fat 368
% Daily Value*
Total Fat 42 g64.2%
Saturated Fat 22.7 g113.3%
Trans Fat 0 g
Cholesterol 388.3 mg
Sodium 2367 mg98.6%
Total Carbohydrates 90 g30.1%
Dietary Fiber 5.8 g23.3%
Sugars 11.5 g
Protein 83 g166%
Vitamin A 56.2% Vitamin C 70.3%
Calcium 50.8% Iron 25.6%
*Based on a 2000 Calorie diet
Directions
Heat water and Sauterne with salt and cayenne in a skillet.
Add scallops.
Cover and simmer 5 minutes (10 for frozen).
Drain and save liquid.
Dice scallops and set aside.
Melt butter in the same skillet, add onion and garlic, saute until tender.
Stir in flour, then the reserved liquid.
Cook, stirring until thickened.
Add lemon rind and the egg yolk blended with the cream.
Cook and stir 3 minutes.
Add parsley and chopped scallops.
Spoon mixture into 6 scallop shells or small ramekins.
Top with crumbs and cheese.
Bake at 400F (200C) until nicely browned, about 10 minutes.