»

Recipes

»

Batter

»

Consomme With Batter Threads
Consomme With Batter Threads Recipe
Consomme With Batter Threads has a one of its kind taste. The eggs and milk gives the Consomme With Batter Threads a rousing taste. Consomme With Batter Threads is inspired by restaurants across the world. Must catch it.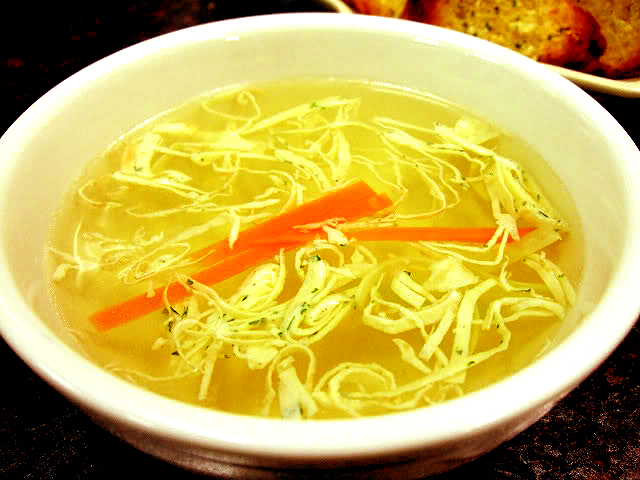 Ingredients
Flour

3⁄4 Tablespoon

(1 Small Dessertspoon)

Egg

1

Milk/Thin cream

2 Tablespoon

Pepper

To Taste

Salt

To Taste
Nutrition Facts
Serving size
Calories 33 Calories from Fat 14
% Daily Value*
Total Fat 2 g2.3%
Saturated Fat 0.53 g2.7%
Trans Fat 0 g
Cholesterol 53.6 mg
Sodium 119.6 mg5%
Total Carbohydrates 3 g0.9%
Dietary Fiber 0.08 g0.34%
Sugars 0.5 g
Protein 2 g4.2%
Vitamin A 1.4% Vitamin C
Calcium 1.6% Iron 2%
*Based on a 2000 Calorie diet
Directions
MAKING
1. In a bowl beat ingredients together to form a light smooth batter.
2. In a pan heat the stock, pour in the batter whilst heating and stir.
3. Let it boil for about 3 minutes such that the cooked batter will form fine threads permeating the soup.

SERVING
4. Serve the consommé with garnish as desired.