»

Recipes

»

Sauce

»

Colorado Chile Que Sauce
Colorado Chile Que Sauce Recipe
Colorado Chile Que Sauce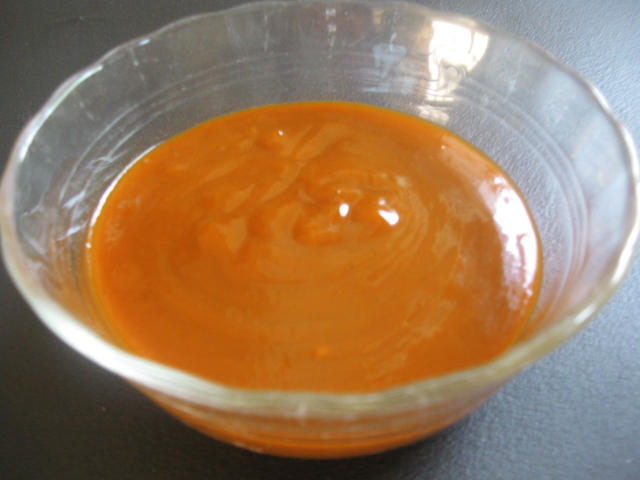 Ingredients
Unsalted butter

2 Tablespoon

Onion

1

, minced

Garlic

1 Clove (5 gm)

, minced

Dark beer

12 Ounce

(1 Can)

Tomato juice

1⁄2 Cup (8 tbs)

Worcestershire sauce

1⁄4 Cup (4 tbs)

Firmly packed brown sugar

1⁄4 Cup (4 tbs)

Lemon

1⁄2

, juiced

Hungarian sweet paprika

1 Tablespoon

Dijon mustard

2 Tablespoon

Chili powder

2 Tablespoon

Red pepper flakes

1 Teaspoon

, crushed

Smoked habanero powder

1 Teaspoon

Marjoram

1 Pinch

Thyme

1 Pinch

Salt

1⁄2 Teaspoon

Ground pepper

1⁄4 Teaspoon

Tomato paste

1 Tablespoon
Nutrition Facts
Serving size: Complete recipe
Calories 914 Calories from Fat 306
% Daily Value*
Total Fat 35 g53.9%
Saturated Fat 16.9 g84.4%
Trans Fat 0 g
Cholesterol 64.5 mg21.5%
Sodium 2083.8 mg86.8%
Total Carbohydrates 131 g43.7%
Dietary Fiber 20.2 g80.6%
Sugars 76.2 g
Protein 14 g27.1%
Vitamin A 247.5% Vitamin C 159.9%
Calcium 33.6% Iron 65%
*Based on a 2000 Calorie diet
Directions
MAKING
1) In a medium saucepan, melt the butter over moderate-low heat.
2) Add the onion and cook for 1 minute.
3) Add the garlic and cook for another 4 minutes.
4) Add all the remaining ingredients and stir well.
5) Heat the mixture to boiling.
6) Reduce the heat and gently simmer, uncovered, for about 30 minutes.

SERVING
7) Serve or use as preferred.