»

Recipes

»

Pepper

»

Coleslaw-Stuffed Peppers
Coleslaw-Stuffed Peppers Recipe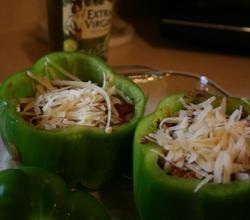 Ingredients
Red peppers/Green peppers

6 Medium

(About 1 3/4 Pound)

Salt

1 Cup (16 tbs)

Shredded cabbage

2 Pound

Chopped onion

1⁄2 Cup (8 tbs)

Salt

1 Teaspoon

Mustard seed

1 Teaspoon

Cider vinegar

3 Cup (48 tbs)

Sugar

1⁄2 Cup (8 tbs)
Nutrition Facts
Serving size: Complete recipe
Calories 1055 Calories from Fat 41
% Daily Value*
Total Fat 5 g7.2%
Saturated Fat 0.62 g3.1%
Trans Fat 0 g
Cholesterol 0 mg
Sodium 6046.8 mg252%
Total Carbohydrates 216 g72.1%
Dietary Fiber 40.7 g162.8%
Sugars 167.4 g
Protein 21 g42.5%
Vitamin A 492.8% Vitamin C 2177.7%
Calcium 51.5% Iron 53.8%
*Based on a 2000 Calorie diet
Directions
Wash peppers; cut each in half lengthwise; remove ribs and seeds.
In large bowl, combine 1 cup salt with 2 quarts cold water; stir until salt is dissolved.
Add pepper halves; cover bowl with plate to keep peppers immersed in salt water.
Refrigerate overnight.
Next day, make Coleslaw: In medium bowl, combine cabbage with onion, 1 teaspoon salt, and the mustard seed; mix well.
Cover; refrigerate.
Sterilize two 1-quart jars (see Directions for Sterilizing); leave in hot water until ready to fill.
In large saucepan, combine vinegar with sugar and 1 cup water.
Cook over moderate heat, stirring, until sugar is dissolved and mixture boils; boil 5 minutes.
Meanwhile, drain pepper halves.
Fill each with 1/2 cup coleslaw.
Pack 6 pepper halves in each sterilized jar, completing one jar at a time.
Im- mediately ladle boiling vinegar mixture over pep- pers to within 1/2 inch of top, but covering peppers completely.
Cap at once as manufacturer directs.
Cool; then store in refrigerator or cool dry place.
Makes 2 quarts.