»

Recipes

»

Soup

»

Cold Tomato Soup
Cold Tomato Soup Recipe
Cold Tomato Soup is a recipe that can be prepared in nearly no time. Try this Cold Tomato Soup recipe; I am sure you will have a huge fan following for this one!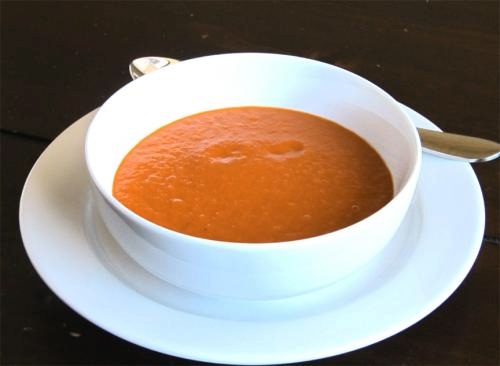 Ingredients
Butter

1 Tablespoon

Chopped onion

1⁄2 Cup (8 tbs)

Canned chicken broth

14 Ounce

Canned diced tomatoes

14 Ounce

Canned tomato puree

14 Ounce

Heavy cream

2 Cup (32 tbs)

Cornstarch

2 Tablespoon

, blended with a little water

Dried basil

1 Tablespoon
Nutrition Facts
Serving size
Calories 572 Calories from Fat 428
% Daily Value*
Total Fat 49 g74.9%
Saturated Fat 29.8 g149.1%
Trans Fat 0 g
Cholesterol 172.5 mg
Sodium 237.3 mg9.9%
Total Carbohydrates 32 g10.6%
Dietary Fiber 5.7 g22.8%
Sugars 6 g
Protein 9 g17%
Vitamin A 68.2% Vitamin C 40.2%
Calcium 21.8% Iron 27.5%
*Based on a 2000 Calorie diet
Directions
Melt the butter in a skillet over medium-low heat.
Saute the onion in the butter for 4 to 5 minutes.
Add the chicken broth, tomatoes, tomato puree, basil and cream and bring to a boil.
Reduce heat and stir in the cornstarch mixture.
Blend for 5 seconds
Cook the cream mixture for 3 minutes or until thickened, stirring constantly (use less cornstarch for less thickness).
Remove from heat.
Chill, covered, in the refrigerator for at least 30 minutes.