»

Recipes

»

Potato

»

Cold Scalloped Potatoes
Cold Scalloped Potatoes Recipe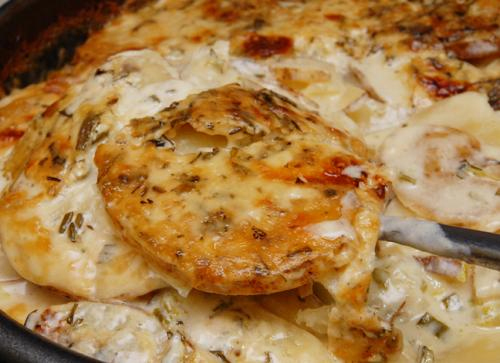 Summary
Preparation Time
5 Min
Cooking Time
1 Hr 10 Min
Ready In
1 Hr 15 Min
Difficulty Level
Easy
Health Index
Healthy
Servings
4
Ingredients
Unsalted butter

2 Tablespoon

Shallot

1 Large

, finely chopped

Garlic

1 Clove (5gm)

, minced

Pepper red

1/4 Teaspoon

, crushed

Red potatoes - 2 pounds, peeled and cut into '/8-inch slices

Heavy cream

1 3/4 Cup (16 tbs)

Milk

1 1/2 Cup (16 tbs)

Salt

1/2 Teaspoon

Black pepper

1/4 Teaspoon

Gruyere cheese

1/2 Cup (16 tbs)

, grated

Parmesan cheese

2 Tablespoon

, freshly grated
Directions
GETTING READY
1) Preheat the oven to 375°.

MAKING
2) In a large heavy saucepan, add butter and melt over moderately low heat.
3) Add the shallot and cook for 1 minute.
4) Add the garlic and red pepper and cook for 3 minutes, or until the shallot is softened.
5) Add the sliced potatoes and toss lightly.
6) Pour in the cream, milk, salt and black pepper over potatoes.
7) Heat up to bring a boil, by stirring occasionally.
8) Remove from heat.
9) In a buttered large, shallow baking dish, transfer the potato mixture.
10) Sprinkle the Gruyere and Parmesan cheese on top.
11) Place inside oven to bake for 15 minutes.
12) Lower the oven temperature to 350° and bake for 45 minutes longer, until bubbly and golden brown.
13) Allow cooling and cover. Place inside refrigerator.

SERVING
14) Serve the potatoes chilled by garnishing with grated Parmesan cheese, if desired.

Anonymous says :
This is a Great recipe . If ever your wanting to find more about foods and recipe I would also like to recommend this site www.gourmandia.com It has everything you would ever want if your p cook at heart its got recipes videos and information about health.
Posted on:
8 February 2012 - 9:41pm