»

Recipes

»

Mousse

»

Cold Salmon Mousse
Cold Salmon Mousse Recipe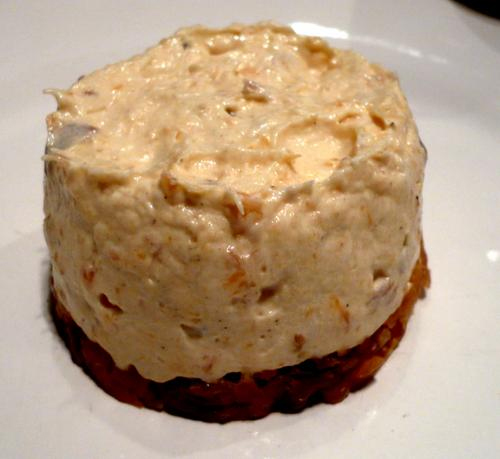 Ingredients
Unflavored gelatin

1 Tablespoon

(1 Envelope)

Boiling water

1⁄2 Cup (8 tbs)

Mayonnaise

1 Cup (16 tbs)

Paprika

1⁄4 Teaspoon

Dried dill

1 Teaspoon

Canned salmon

16 Ounce

, skin and bones removed (1 Can)

Heavy cream

1 Cup (16 tbs)

Capers

1 Tablespoon

Lemon juice

7 1⁄2 Teaspoon

(2 Tablespoons Plus 1 1/2 Teaspoons)

Cucumber

1⁄2

, diced
Nutrition Facts
Serving size
Calories 804 Calories from Fat 657
% Daily Value*
Total Fat 73 g113%
Saturated Fat 17.8 g88.8%
Trans Fat 0 g
Cholesterol 149.8 mg
Sodium 842.2 mg35.1%
Total Carbohydrates 4 g1.4%
Dietary Fiber 0.42 g1.7%
Sugars 0.6 g
Protein 27 g53.1%
Vitamin A 22.8% Vitamin C 10.3%
Calcium 8.2% Iron 4.4%
*Based on a 2000 Calorie diet
Directions
MAKING
1) In a blender, soak gelatin in water.
2) Process the gelatin mixture and add 1/2 cup mayonnaise, paprika, dill, and salmon.
3) While still processing gently stream in cream to the salmon mixture.
4) Mix capers, 2 tablespoons lemon juice, and blend until smooth.
5) Stream the salmon mixture into mold.
6) Place the mold in refrigerator and chill for 6 hours.
7) In another bowl, fold together cucumber and the remaining lemon juice and mayonnaise until well-blended.

SERVING
8) Rub the sides of the mold with hands and unmold salmon on serving plate.
9) Spoon the sauce on top or, serve sauce in a separate bowl on the side.