»

Recipes

»

French

»

Souffle

»

Cold Pumpkin Souffle
Cold Pumpkin Souffle Recipe
Cold Pumpkin Souffle is an amazingly delicious mouth watering dessert recipe. Serve it at your dinner party; I bet you will have a huge fan following for this one!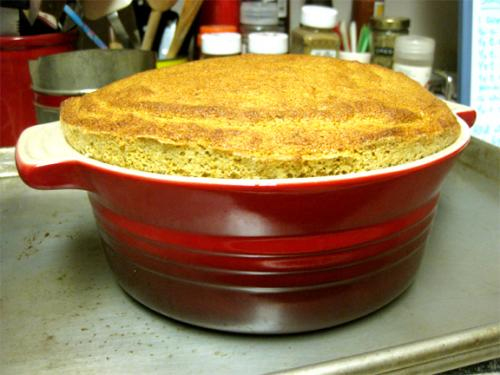 Ingredients
Ginger brandy

1⁄4 Cup (4 tbs)

Unflavored gelatin

2 Teaspoon

(1 Envelope)

Egg yolks

4

Sugar

2⁄3 Cup (10.67 tbs)

Canned pumpkin

16 Ounce

(1 Can)

Grated orange peel

1 Teaspoon

(Freshly Grated)

Cinnamon

1 Teaspoon

Ground ginger

1⁄2 Teaspoon

Mace

1⁄4 Teaspoon

Ground cloves

1⁄4 Teaspoon

Egg whites

4

Whipping cream

1 Cup (16 tbs)

, whipped

Chopped toasted walnuts/Pecans / almonds

1⁄2 Cup (8 tbs)

, crumbled

English toffee bar

1

Vanilla ice cream

1 Pint

Frozen orange juice concentrate

2 Tablespoon

, thawed
Nutrition Facts
Serving size: Complete recipe
Calories 3582 Calories from Fat 1758
% Daily Value*
Total Fat 198 g304.4%
Saturated Fat 105.5 g527.4%
Trans Fat 0 g
Cholesterol 1303 mg
Sodium 785.4 mg32.7%
Total Carbohydrates 347 g115.6%
Dietary Fiber 24.2 g96.8%
Sugars 295.2 g
Protein 64 g127.3%
Vitamin A 1471.1% Vitamin C 51.8%
Calcium 108.1% Iron 61.9%
*Based on a 2000 Calorie diet
Directions
Oil 6-inch-wide band of waxed paper and tie around 1-quart souffle dish to form collar extending about 2 inches above rim.
Pour brandy in top of double boiler.
Sprinkle with gelatin and set over simmering water.
Stir constantly until gelatin is completely dissolved.
Combine yolks and 1/2 cup sugar in medium bowl and beat until thick and pale yellow.
Blend in pumpkin, orange peel, cinnamon, ginger, mace and cloves.
Mix in dissolved gelatin.
Beat egg whites in medium bowl until soft peaks form.
Gradually add remaining sugar and beat until stiff and glossy.
Fold into pumpkin mixture, then fold in whipped cream.
Spoon into souffle dish and chill until set, at least 8 hours.