»

Recipes

»

Lobster

»

Cold Boiled Lobster
Cold Boiled Lobster Recipe
Cold Boiled Lobster is a wonderful dish that is perfect for a party with friend and colleagues! I served it just last weekend and my guests loved it. Follow this easy Cold Boiled Lobster recipe, don€™t miss it!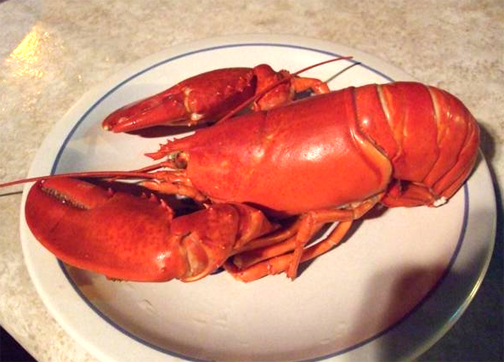 Ingredients
Lobsters

2 Pound

(1 pound each)

Pot of sea water/1 pot boiling water with 1 tablespoon salt and a handful of edible seaweed if available

1
Nutrition Facts
Serving size: Complete recipe
Calories 817 Calories from Fat 74
% Daily Value*
Total Fat 8 g12.6%
Saturated Fat 1.6 g8.2%
Trans Fat 0 g
Cholesterol 861.8 mg
Sodium 2685.4 mg111.9%
Total Carbohydrates 5 g1.5%
Dietary Fiber 0 g
Sugars 0 g
Protein 171 g341.1%
Vitamin A 12.7% Vitamin C
Calcium 43.5% Iron 15.1%
*Based on a 2000 Calorie diet
Directions
Plunge the live lobsters into the salted boiling water, having first tied their claws, otherwise they will fight.
Put a tight lid on top and boil for 10 minutes.
Remove from water and cool.
Cooking a lobster in water that has been flavored with vegetables and herbs is nonsense.
It does nothing whatever for the fish.
When the lobsters are cold, split them in two, crack the claws, remove gut and sac, and present on a bed of lettuce with mayonnaise on the side.