»

Recipes

»

European

»

Irish

»

Classic Irish Colcannon
Classic Irish Colcannon Recipe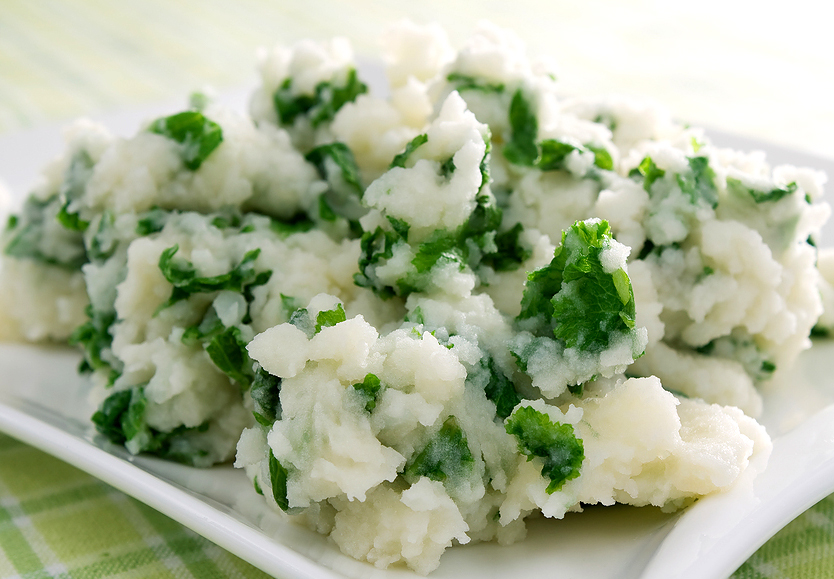 Ingredients
Cabbage

1 Small

, steamed and finely chopped

Seasoned mashed potatoes

2 Cup (32 tbs)

(Hot)

Bacon drippings/Butter / margarine

2 Tablespoon

Salt

1⁄4 Teaspoon

White pepper

1 Pinch
Nutrition Facts
Serving size
Calories 477 Calories from Fat 67
% Daily Value*
Total Fat 7 g11.5%
Saturated Fat 3.4 g16.9%
Trans Fat 0 g
Cholesterol 7.6 mg
Sodium 271.7 mg11.3%
Total Carbohydrates 97 g32.4%
Dietary Fiber 11.5 g45.8%
Sugars 2 g
Protein 11 g21.3%
Vitamin A 1.2% Vitamin C 112%
Calcium 2.6% Iron 1.8%
*Based on a 2000 Calorie diet
Directions
GETTING READY
1. Preheat the oven to 400° F.

MAKING
2. In a mixing bowl, combine all the ingredients and mix well
3. Grease a 1 ½ quarter casserole generously with butter.
4. Turn the cabbage mixture into the casserole and spread, leaving the surface unsmooth.
5. Bake in the preheated oven for 35—45 minutes until lightly browned.

SERVING
6. Serve the cabbage straight from the casserole dish
7. This is a traditional Irish dish that is served along with stew and is eaten in winter.