»

Recipes

»

European

»

Irish
Colcannon Recipe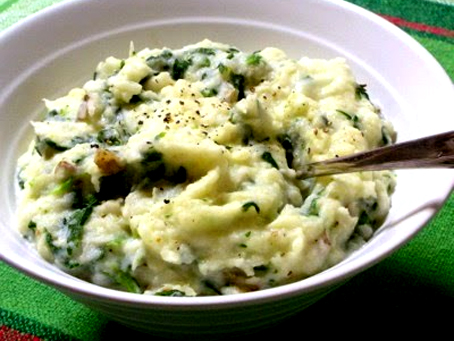 Ingredients
Potatoes

6 Medium

, peeled, quartered

Shredded cabbage

4 Cup (64 tbs)

Chopped onion

1 Cup (16 tbs)

Butter/Margarine

1⁄4 Cup (4 tbs)

Milk

3⁄4 Cup (12 tbs)

Salt

1 Teaspoon

Pepper

1⁄8 Teaspoon

Snipped parsley

1 Tablespoon
Nutrition Facts
Serving size: Complete recipe
Calories 1444 Calories from Fat 463
% Daily Value*
Total Fat 53 g81%
Saturated Fat 32.5 g162.5%
Trans Fat 0 g
Cholesterol 137.9 mg
Sodium 2144.9 mg89.4%
Total Carbohydrates 232 g77.4%
Dietary Fiber 33.1 g132.3%
Sugars 32.9 g
Protein 33 g65.4%
Vitamin A 62.8% Vitamin C 564.6%
Calcium 50% Iron 59.8%
*Based on a 2000 Calorie diet
Directions
In a covered saucepan cook potatoes in boiling salted water to cover for 20 to 25 minutes; drain.
Meanwhile, combine cabbage and onion.
In a saucepan cook cabbage mixture in a small amount of boiling salted water for 15 minutes; drain.
Mash potatoes using electric mixer.
Beat in butter or margarine and as much milk as necessary to make fluffy.
Add salt and pepper.
Stir in cabbage and onion.
Sprinkle with pars ley.