»

Recipes

»

European

»

Irish
Colcannon Recipe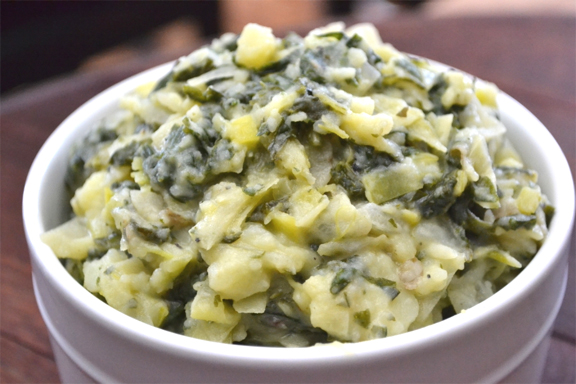 Ingredients
Kale

1 Pound

(1 Bunch)

Olive oil

2 Tablespoon

Minced shallots

1⁄4 Cup (4 tbs)

(Use About 2 Large Shallots)

Potatoes

2 Pound

, pounded (6 Large Ones)

Cider vinegar/White vinegar

1 Teaspoon

Salt

1⁄2 Teaspoon

Hot milk

1⁄2 Cup (8 tbs)

(Can Use Low Fat Milk)

Salt

To Taste

Pepper

To Taste
Nutrition Facts
Serving size: Complete recipe
Calories 1281 Calories from Fat 332
% Daily Value*
Total Fat 38 g58%
Saturated Fat 6.9 g34.5%
Trans Fat 0 g
Cholesterol 11.3 mg
Sodium 1664.3 mg69.3%
Total Carbohydrates 223 g74.4%
Dietary Fiber 29.1 g116.3%
Sugars 13.1 g
Protein 38 g75.3%
Vitamin A 1404.3% Vitamin C 1208.8%
Calcium 86.1% Iron 85.3%
*Based on a 2000 Calorie diet
Directions
Wash the kale very thoroughly and chop it, discarding any tough stems.
Heat the oil in a 12-inch skillet, and saute the shallots until they are softened but not brown.
Add the kale, which should still have some water clinging to it.
Cover and braise the kale 5 to 8 minutes, stirring several times.
Add more water if needed.
Remove from the heat as soon as the kale is tender to the bite.
Keep the kale warm until the potatoes are ready.
Peel and cut the potatoes into uniform pieces.
Cover with water to which you've added the vinegar and 1/2 teaspoon of salt.
Boil the potatoes until they are tender.
Drain, mash, and whip the potatoes, adding milk as needed to make them fluffy.
Add salt and pepper.
Vigorously stir in the kale to keep the texture light.
Serve piping hot.