»

Recipes

»

European

»

Irish
Colcannon Recipe
This colcannon recipe is going to be bigger hit than avatar movie. No other ingredient will make this dish taste so awesome than vegetable. There is not a single month when I don't serve this yummy side dish! You will be ever grateful to the european people for sharing this addictive colcannon recipe with the world!. Enjoy this dish with your kin and friends and get back to me with all that they have said.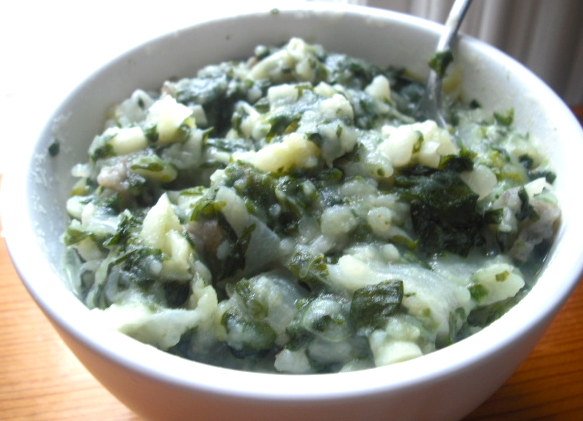 Summary
Cooking Time
25 Min
Difficulty Level
Easy
Health Index
Healthy
Servings
4
Ingredients
Cabbages

2 Small

, roughly chopped

Leeks

2

, diced

Onion

1 Small

, diced

Potatoes

4 Medium

, cooked and dry mashed

Cream

45 Milliliter

(3 Tablespoon)

Butter

45 Milliliter

(3 Tablespoon)

Freshly ground black pepper

To Taste
Nutrition Facts
Serving size
Calories 385 Calories from Fat 91
% Daily Value*
Total Fat 10 g15.8%
Saturated Fat 6.3 g31.7%
Trans Fat 0 g
Cholesterol 25 mg
Sodium 84.1 mg3.5%
Total Carbohydrates 71 g23.6%
Dietary Fiber 10 g40.2%
Sugars 16.1 g
Protein 8 g16.1%
Vitamin A 55.2% Vitamin C 164.9%
Calcium 18.8% Iron 27.9%
*Based on a 2000 Calorie diet
Directions
MAKING
1 In a pan, boil cabbage, leeks and onion together in a small amount of water until they are tender.
2 Drain well and mash.
3 In a pan, combine all the ingredients and reheat, stirring constantly (or microwave on HIGH 2 minutes).

SERVING
4 Serve hot.