»

Recipes

»

Pancake

»

Coffee Apple Pancake
Coffee Apple Pancake Recipe
Coffee apple pancakes make your breakfast interesting. The tarty apples and coffee together combine to give a unique taste. You will like the taste and sauce. Try making it healthy with some cereals in the batter.
Coffee Apple Puff Pancake Breakfast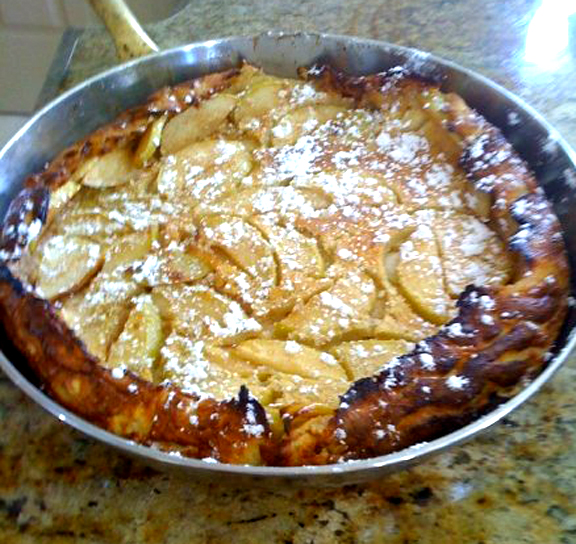 Ingredients
Tart apples-1 pound

Butter

1/3 Cup (16 tbs)

, melted

Sugar

1/3 Cup (16 tbs)

Nutmeg

1/8 Teaspoon

Cinnamon

1/4 Teaspoon

Eggs

2 Large

Strong coffee

1/4 Cup (16 tbs)

Milk

1/4 Cup (16 tbs)

All-purpose flour-1/2 cup, sifted

Salt

1/4 Teaspoon

Butter

5 Tablespoon

, melted

Sugar

1/4 Cup (16 tbs)
Directions
GETTING READY
1)Pare and core apples, then, cut in thin slices.

MAKING
2)In a saucepan, cook apples in1/2 cup butter for 5 minutes.
3)In a bowl, mix 1/3 cup sugar, nutmeg and cinnamon.
4)Add to apples, cover the pan and cook on low heat for 10 minutes or until apples are crisply tender.
5)Remove from heat and cool to lukewarm.
6)In another bowl, add together eggs, coffee, milk, flour and salt.
7)Using a rotary beater or electric mixer beat for 2 to 3 minutes (batter should be very thin).
8)Take a 10-inch frying pan and heat 1 tablespoon of remaining butter in it, tilt it to coat sides.
9)When hot, pour batter into pan and bake in oven at 450 degrees for 15 minutes.
10)Batter will puff up in center after about 3 minutes, puncture it with fork, repeating as necessary.
11)Decrease heat to 350 degrees and bake for 10 minutes or until golden brown and crisp.
12)Batter will creep-up on sides of pan forming shell, remove from oven.
13)Pour half the remaining butter on surface and sprinkle half of the remaining sugar.
14)Spread apple mixture on half the surface and fold like an omelet.
15)Place it into hot platter and pour remaining butter on top.

SERVING
16)Sprinkle remaining sugar and serve hot.