»

Recipes

»

Coconut

»

Yummy Baked Coconut Balls
Yummy Baked Coconut Balls Recipe
Coconut is indeed a wonderful and versatile ingredient. A yummy treat, this Yummy Baked Coconut Balls just goes to prove it. A delicious anytime treat. Try it and you are sure to love it. Do let me know how it turned out for you.
Yummy Baked Coconut Balls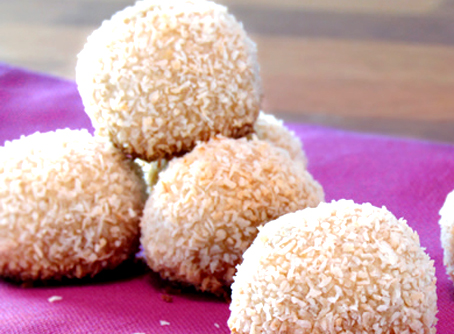 Ingredients
Evaporated milk

6 Tablespoon

Coconut

3 Cup (48 tbs)

, flaked

Sugar

5⁄8 Cup (10 tbs)

Egg

1

, beaten
Nutrition Facts
Serving size: Complete recipe
Calories 1525 Calories from Fat 777
% Daily Value*
Total Fat 92 g141.7%
Saturated Fat 76.9 g384.7%
Trans Fat 0 g
Cholesterol 237.6 mg
Sodium 213.4 mg8.9%
Total Carbohydrates 171 g57%
Dietary Fiber 21.6 g86.4%
Sugars 149.3 g
Protein 20 g40.8%
Vitamin A 9.1% Vitamin C 16%
Calcium 29.6% Iron 38.5%
*Based on a 2000 Calorie diet
Directions
GETTING READY
1) Preheat oven to 375° F.
2) Lightly grease and flour a baking dish.

MAKING
3) Take a mixing bowl and combine in it milk, sugar, coconut and egg. Mix well.
4) Shape the mixture into small balls and place on the prepared baking dish.
5) Bake for about 12-15 minutes or until golden brown.
6) Place on a wire rack to cool completely.

SERVING
7) Transfer to a platter and serve the Yummy Baked Coconut Balls.