»

Recipes

»

Candy

»

Gumdrop

»

Coconut Gumdrop Cookies
Coconut Gumdrop Cookies Recipe
These crispy and crunchy Coconut Gumdrop Cookies are delicious! But i must say...you have to have a taste for coconut, or you are not going to like this at all! The vanilla adds a little extra taste which is good! Try these out with the kids as a mid-day snack!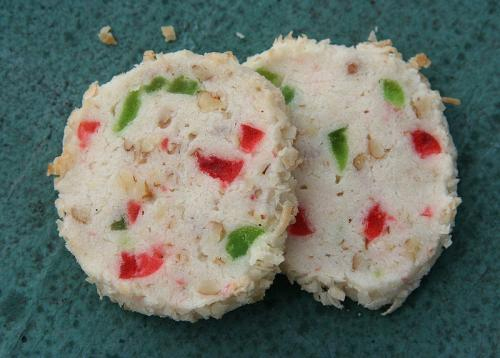 Ingredients
Butter/Margarine

1/2 Cup (16 tbs)

Brown sugar

1/2 Cup (16 tbs)

, firmly packed

Granulated Sugar

1/2 Cup (16 tbs)

Egg

1

Flour

1 Cup (16 tbs)

, sifted

Double-acting baking powder - 1/2 teaspoon

Soda

1/2 Teaspoon

Salt

1/4 Teaspoon

Coconut

1 1/2 Cup (16 tbs)

, shredded

Gumdrops - 1/2 cup finely-cut

Corn flakes

2 Cup (16 tbs)

Vanilla

1/2 Teaspoon
Directions
MAKING
1) In a bowl, add the butter and sugars and beat well till light and fluffy.
2) Add in egg and beat well.
3) Combine and sift the flour, baking powder, soda, and salt.
4) Add into the creamed mix and stir well.
5) Mix in the coconut, gum-drops, cereal, and vanilla.
6) Beat well till blended and forms a smooth dough.
7) Refrigerate.
8) Taking little dough at a time, form into small balls.
9) Arrange on an ungreased baking sheet and press down with a fork.
10) Place in an oven at 350° F and bake for 15 minutes, till lightly browned.

SERVING
11) Serve with a warm glass of milk.