»

Recipes

»

Coconut

»

Coconut-Fruit Balls
Coconut-Fruit Balls Recipe
Coconut is indeed a wonderful and versatile ingredient. A yummy treat, this coconut-fruit balls just goes to prove it. A delicious anytime treat. Try it and you are sure to love it. Do let me know how it turned out for you.
Coconut Fruit Balls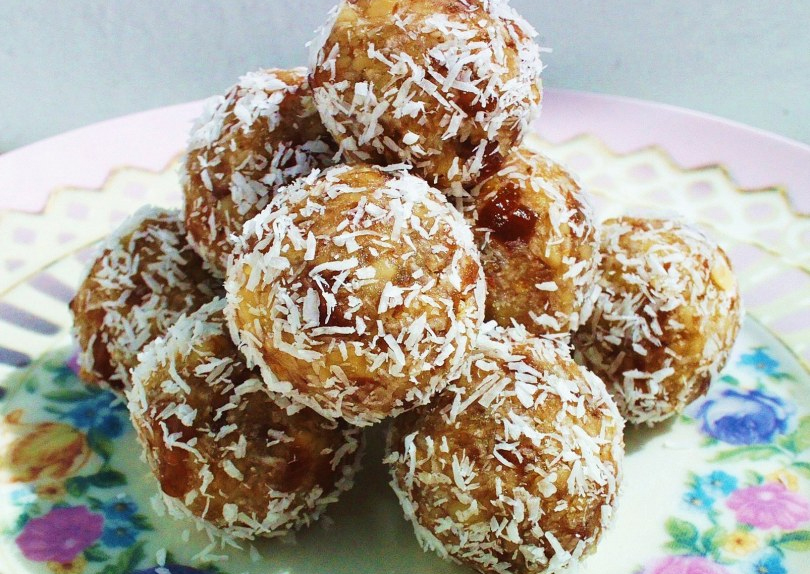 Ingredients
Dried prunes

1 Cup (16 tbs)

Dried apricots

1 Cup (16 tbs)

Golden Raisins

2 Cup (16 tbs)

Nuts

1 1/2 Cup (16 tbs)

, chopped

Sugar

2 Cup (16 tbs)

Light corn syrup

1/2 Cup (16 tbs)

Vanilla

1/2 Teaspoon

Salt

1/4 Teaspoon

Finely grated coconut
Directions
MAKING
1) Grind the apricots, prunes and raisins. Combine with the nuts.
2) Take a saucepan and blend corn syrup, 1/2 cup water and sugar in it.
3) Bring the mixture to a boil. Cook until sugar dissolved completely, stirring constantly.
4) Reduce heat and simmer until mixture reaches soft-ball stage or registers 238° F on a candy thermometer.
5) Remove from heat and set aside to cool for about 10 minutes.
6) Beat until mixture becomes creamy. Stir in salt and vanilla.
7) Combine the mixture quickly with the prune mixture and blend nicely.
8) Take a 9 inch waxed paper-lined pan and transfer mixture onto it. Let stand for about 2-3 hours.
9) Turn the candy out of the pan by removing paper.
10) Pinch off 3/4 inch pieces and shape into balls.

SERVING
11) Roll the balls in coconut and serve.