»

Recipes

»

Bar

»

Coconut Fig Bars
Coconut Fig Bars Recipe
A perfect alternative for a busy day breakfast, grab this delicious and filling Coconut Fig Bars and start off your day right! Of course, this Coconut Fig Bars is extremely easy to prepare. So give it a try!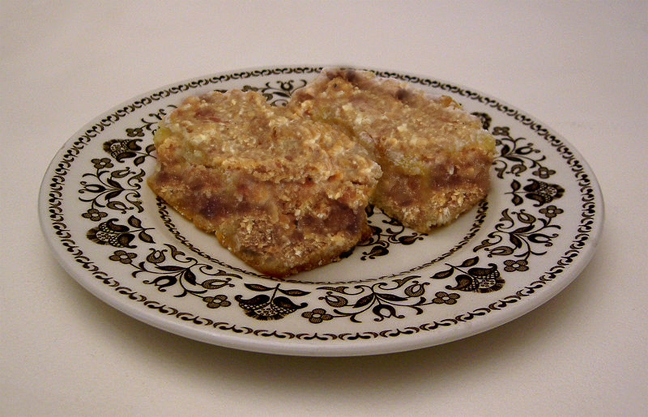 Ingredients
Cake flour

1 1/4 Cup (16 tbs)

, sifted

Double-acting baking powder - 1 1/2 teaspoons

Salt

1/2 Teaspoon

Sugar

1 Cup (16 tbs)

Eggs

2 Small

, Well beaten

Melted butter or other shortening - 1 tablespoon

Dried figs -3/4 cup, finely cut

Lemon rind - 1 teaspoon, grated

Coconut

1 Cup (16 tbs)

, flaked

Hot water

1 Tablespoon
Directions
MAKING
1) Combine and sift flour once.
2) Measure, add baking powder and salt, and sift once more.
3) Slowly add in the sugar to eggs, while beating well.
4) Add in the shortening, then figs, lemon rind, and coconut.
5) Mix well.
6) Add in the flour alternating with water.
7) For a thin, chewy bar, spread the mix in two greased 8x8x2-inch pans.
8) Place in the oven and bake at 325°F for about 35 minutes.
9) Cool and cut in 21/2xl1/4-inch bars.
10) Remove from the pans.

SERVING
11) Serve as a breakfast item.