»

Recipes

»

Eggplant

»

Coconut Eggplant Curry
Coconut Eggplant Curry Recipe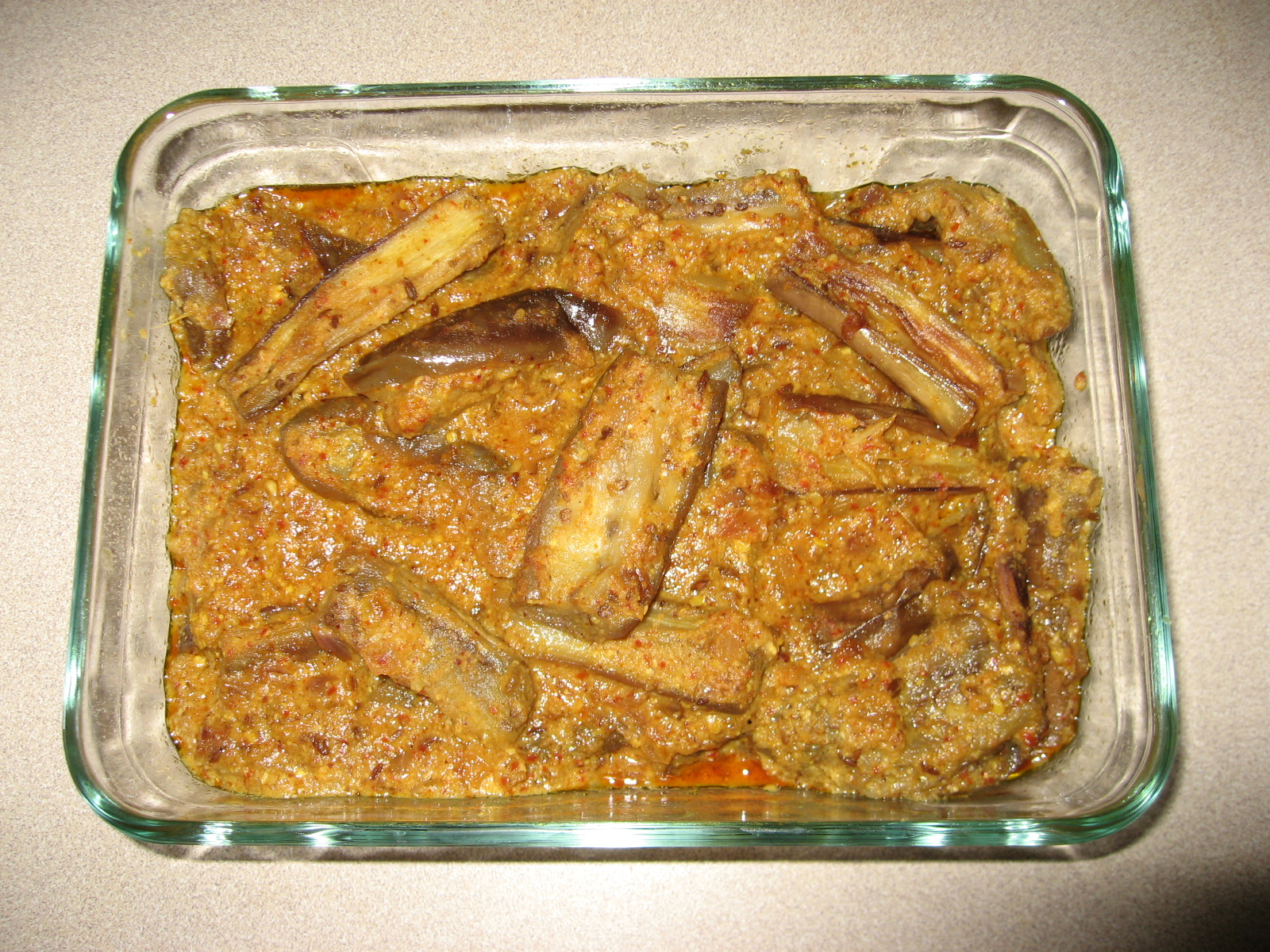 Ingredients
Eggplants

3

(long indian variety)

Shredded coconut

4 Tablespoon

Red chillies

3

Fenugreek seeds

1⁄4 Teaspoon

(methi)

Cumin seeds

1⁄2 Teaspoon

Yogurt

1⁄2 Cup (8 tbs)

Mustard seeds

1⁄4 Teaspoon

Onions

1⁄2 Cup (8 tbs)

, chopped

Ginger garlic paste

1 Teaspoon

Turmeric powder

2 Pinch

Coriander powder

1⁄2 Teaspoon

(dhaniya powder)

Salt

To Taste
Nutrition Facts
Serving size
Calories 155 Calories from Fat 58
% Daily Value*
Total Fat 7 g10.7%
Saturated Fat 5.2 g25.9%
Trans Fat 0 g
Cholesterol 3.7 mg
Sodium 169.4 mg7.1%
Total Carbohydrates 23 g7.6%
Dietary Fiber 11.3 g45.3%
Sugars 10 g
Protein 5 g9.8%
Vitamin A 3.6% Vitamin C 31.8%
Calcium 7.9% Iron 10.9%
*Based on a 2000 Calorie diet
Directions
Cut eggplant into 3 inch long pieces and soak them in warm salty water for 10 mins. Drain and pat dry.

Heat 3 tbs oil in a skillet and fry the eggplant until they turn slightly soft and change color. Drain excess oil on absorbent paper. Keep aside.

Grind shredded coconut, red chillies, methi, cumin seeds and yogurt. This is the 'Masala'

Heat 1 tbs oil in a wok. Add mustard seeds and allow them to splutter. Add chopped onions, turmeric, ginger garlic paste and curry leaves. Saute until onions fry well.

Add the ground masala. Add coriander powder, salt and chilly powder. Mix well and cover and cook for 5 minutes.

Add the fried eggplant pieces, cover and continue cooking for another 5-7 minutes.

Remove lid and cook until gravy thicken to required consistency.

Serve Hot with Steamed Rice/Rotis.

South Indian ...? well it looks delicious! I love eggplant, the texture of it is soo unique. i can have it almost anyway.. i will try this with my next batch of eggplants! Lovely!!
Posted on:
30 June 2009 - 10:19am

Rachel says :
I can't wait to try this...I should have been born Indian! :)
Posted on:
28 June 2009 - 4:55pm

Thank you Snigdha for sharing this delicious recipe of Coconut Eggplant Curry. This Coconut Eggplant Curry Recipe is looking very easy and simple... Here is many ways to smile! veerpradeep
Posted on:
29 February 2008 - 10:35am

Yummy. I have never tried cooking eggplant in this way. Should give it a try. Thanks for the recipe.
Posted on:
31 January 2008 - 3:38pm

Thanks. Yes it is a South-Indian dish.
Posted on:
25 January 2008 - 2:54pm

delicious recipe. Is It South Indian dish?
Posted on:
25 January 2008 - 2:39pm