»

Recipes

»

Indian

»

Barfi

»

Coconut Burfi
Coconut Burfi Recipe
One of the favorite indian sweets. Prepared mainly with coconut and sugar.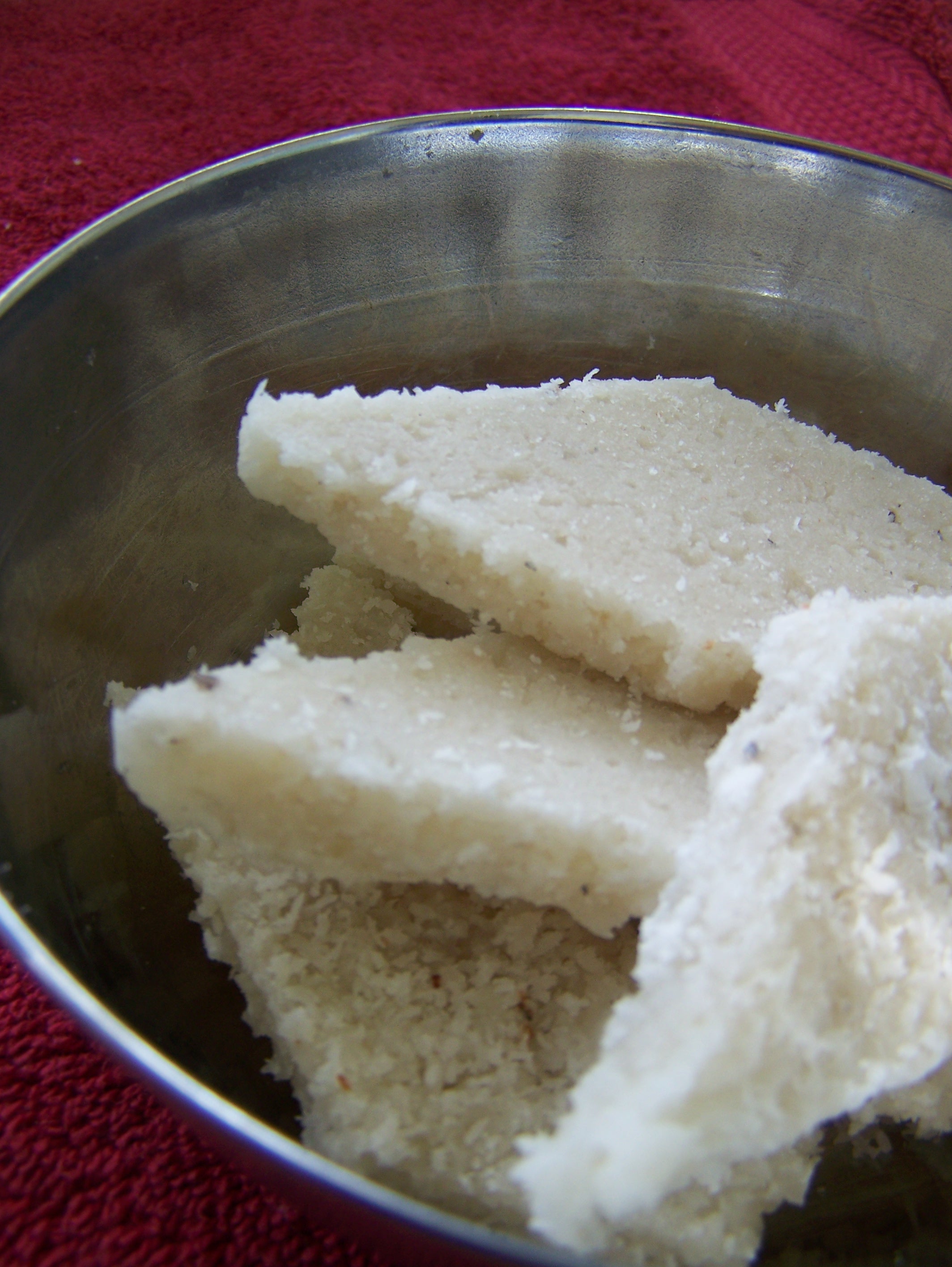 Ingredients
Shredded coconut

1 Cup (16 tbs)

, frozen

Sugar

1 Cup (16 tbs)

Milk

3 Tablespoon

Cardamom

1 Teaspoon

Ghee

3 Tablespoon

About a tbsp ghee for greasing a dish
Directions
Grease a dish with ghee and keep aside ( cake pan of any shape will do )
Meanwhile, heat a pan over med heat.Add the sugar and 3 tbsp milk.
Keep stirring and increase the flame a little till the mixture starts bubbling and the sugar is completely dissolved.
Add the coconut grating immediately and keep stirring it. be careful not to burn the mixture. can reduce the flame to medium
stir for a while ( approx for 2 min) then add the ghee and stir some more
keep stirring till the coconut is well incorpaorated with the sugar mixture. and becomes a thick mass. you ll notice the mixture leaving the sides of the pan.Add the cardamom pwd and mix
remove from heat and spread it onto the greased dish immediately. about 1 and half inch thick.let set for 2 min. cut into diamond shape with knife. dont remove from the plate
let cool down to room temperature.
remove burfis from plate and serve
can store in air tight container and refrigerate for days

I had eaten the kaju barfi before but never tried the coconut barfi... this seems very good and a real change. will surely try, thanks for posting!
Posted on:
18 May 2009 - 7:09am