»

Recipes

»

Pie

»

Coconut Oatmeal Pie
Coconut Oatmeal Pie Recipe
Coconut Oatmeal Pie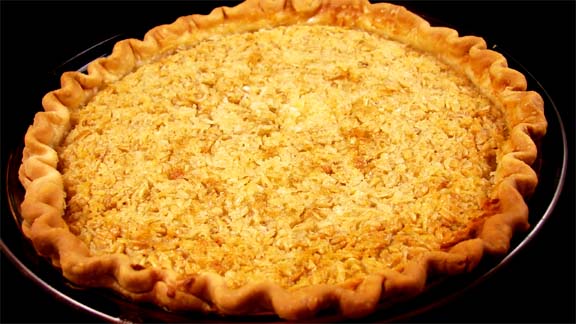 Ingredients
Pastry crust

1

Sugar

1⁄2 Cup (8 tbs)

Butter/Margarine

1⁄4 Cup (4 tbs)

, softened

Light corn syrup

1 Cup (16 tbs)

Salt

1⁄4 Teaspoon

Eggs

3

Flaked coconut

1⁄2 Cup (8 tbs)

Quick cooking rolled oats

1⁄2 Cup (8 tbs)
Nutrition Facts
Serving size: Complete recipe
Calories 3664 Calories from Fat 815
% Daily Value*
Total Fat 171 g263.6%
Saturated Fat 58.6 g293%
Trans Fat 0 g
Cholesterol 755.4 mg
Sodium 927.8 mg38.7%
Total Carbohydrates 523 g174.4%
Dietary Fiber 14.3 g57.1%
Sugars 197 g
Protein 49 g97.4%
Vitamin A 42.7% Vitamin C 1.1%
Calcium 17.9% Iron 39.5%
*Based on a 2000 Calorie diet
Directions
1. Prepare and roll out pastry.
2. Line a 9-inch pie plate.
3. Trim pastry to 1/2 inch beyond edge of pie plate.
4. Flute edge; do not prick pastry.
5. Bake in 450° oven for 5 minutes.
6. Cool thoroughly on rack.
7. In medium mixer bowl gradually add sugar to softened butter or margarine, beating till fluffy with electric mixer or rotary beater.
8. Add corn syrup and salt; beat well.
9. Add eggs, one at a time, beating till thoroughly mixed.
10. Stir in coconut and rolled oats.
11. Place pie shell on oven rack; pour filling into the partially baked pastry shell.
12. To prevent overbrowning, cover edge of pie with foil.
13. Bake in 350° oven for 30 minutes.
14. Remove foil; bake for 15 to 20 minutes more or till knife inserted off-center comes out clean.
15. Cool before serving.
16. Cover; chill to store.