»

Recipes

»

Cookie

»

Macaroon

»

Coconut Macaroons
Coconut Macaroons Recipe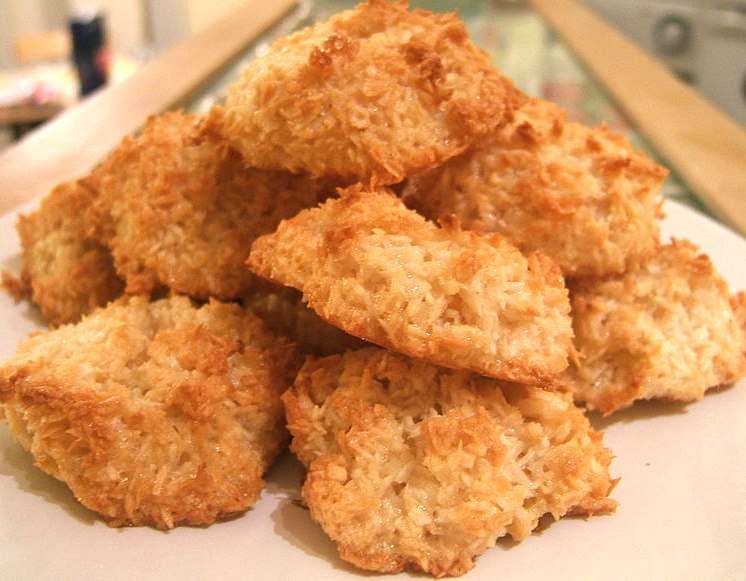 Ingredients
Evaporated milk

1 Cup (16 tbs)

(skimmed)

Granulated sugar replacement

2 Teaspoon

Coconut

3 Cup (48 tbs)

, shredded (unsweetened)
Nutrition Facts
Serving size: Complete recipe
Calories 1193 Calories from Fat 843
% Daily Value*
Total Fat 100 g153.4%
Saturated Fat 83 g415.1%
Trans Fat 0 g
Cholesterol 74.2 mg
Sodium 319.4 mg13.3%
Total Carbohydrates 62 g20.8%
Dietary Fiber 21.6 g86.4%
Sugars 40.7 g
Protein 25 g50.9%
Vitamin A 11.9% Vitamin C 21.3%
Calcium 70.2% Iron 35.1%
*Based on a 2000 Calorie diet
Directions
Combine milk and sugar replacement in large bowl, stirring until sugar replacement dissolves.
Add coconut and stir until coconut is completely moistened.
Drop by teaspoon-fuls onto greased cookie sheets, 2 to 3 in. (5 to 7 cm) apart.
Bake at 350°F (175°C) for 15 minutes, or until tops are lightly browned.
Image Courtesy :
http://en.m.wikipedia.org/wiki/File:Coconutmacaroons.jpg