»

Recipes

»

Cookie

»

Macaroon

»

Coconut Macaroons
Coconut Macaroons Recipe
Coconut Macaroons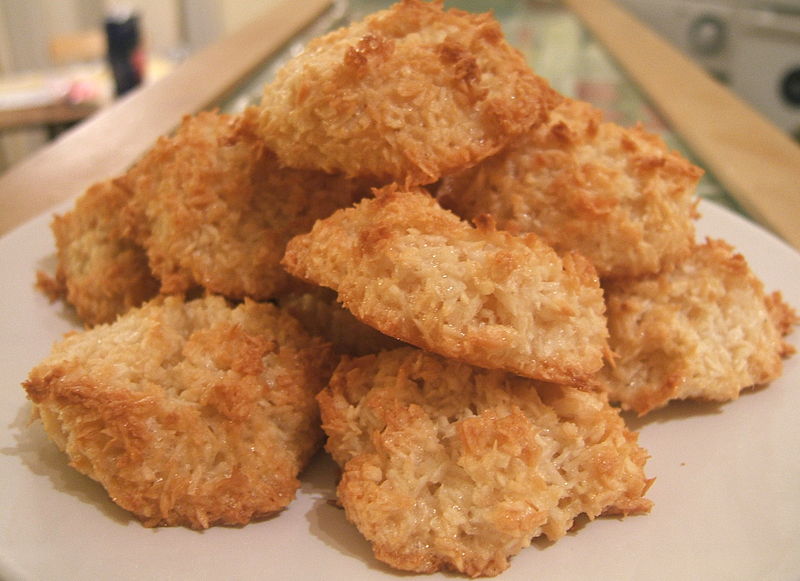 Summary
Preparation Time
10 Min
Cooking Time
25 Min
Ready In
35 Min
Difficulty Level
Easy
Health Index
Healthy
Servings
4
Ingredients
Shredded coconut

1 Cup (16 tbs)

(Unsweetened)

Heavy cream

1⁄2 Cup (8 tbs)

Sweet and low

4 Gram

(4 Packets)

Almond extract

1⁄2 Teaspoon

Vanilla extract

1⁄4 Teaspoon

Egg whites

2
Nutrition Facts
Serving size
Calories 184 Calories from Fat 154
% Daily Value*
Total Fat 18 g27.4%
Saturated Fat 12.8 g64.2%
Trans Fat 0 g
Cholesterol 41.1 mg
Sodium 39.5 mg1.6%
Total Carbohydrates 4 g1.4%
Dietary Fiber 1.8 g7.2%
Sugars 1.5 g
Protein 3 g5.7%
Vitamin A 8.8% Vitamin C 1.4%
Calcium 2.3% Iron 2.8%
*Based on a 2000 Calorie diet
Directions
1. Mix the cream, sweetener and extracts. Add the coconut, mix well and let stand for one hour. If mixture feels dry to the touch after one hour, add a little more cream.
2. Preheat oven to 350°F.
3. Whip egg whites until it peaks. Fold into coconut mixture.
4. Using a teaspoon, place a small amount of coconut onto a well greased cookie sheet, making 16 cookies.