»

Recipes

»

Coconut

»

Coconut Cream Caramel
Coconut Cream caramel Recipe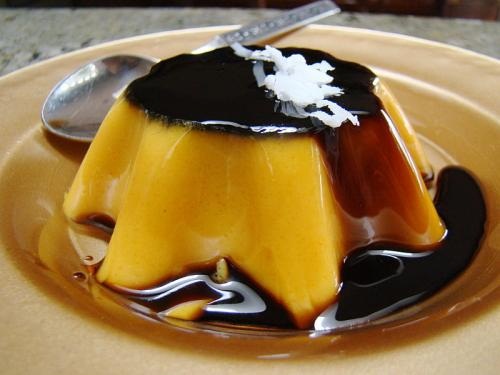 Ingredients
Caster sugar

200 Gram

Butter for greasing

Milk

568 Milliliter

Coconut

75 Gram

, creamed

Eggs- 6 no-€™s

Single cream

1 Carton (1l)

Single cream- for garnishing

Coconut

25 Gram

, desiccated (For Tuiles)

Egg whites

2

(For Tuiles)

Icing Sugar

65 Gram

(For Tuiles)

Plain flour

65 Gram

(For Tuiles)

Butter

65 Gram

, melted (For Tuiles)
Directions
GETTING READY
1. In a heavy bottomed sauce pan, place 6 oz caster sugar. Heat on a low flame till sugar dissolves.
2. Cook on a medium flame till sugar turns to caramel.
3. Pour on to a 1.1 litre (2 pints) baking tin. Keep aside to cool.
4. Grease sides of tin on to top of caramel with butter and keep aside.
5. In a medium sized sauce pan, combine milk and grated creamed coconut. Mix well and warm on a low flame.
6. Pre heat an oven at 170°C (325°F).

MAKING
7. In a medium sized bowl, separate 3 eggs into yolks and whites. Use whites for some other recipe.
8. To the 3 egg yolks, add 3 eggs and whisk well.
9. Add warmed coconut milk mixture, remaining caster sugar and cream, while whisking continuously.
10. Pass through a soup strainer and pour strained mixture over caramel.
11. In a deep baking tray, pour water till half way filled.
12. Place baking tin and bake over a water bath in pre heated oven for 1 ½ hours or till just set.
13. Once baked, remove from oven and keep aside to cool.
14. Cover with cling wrap and refrigerate over night.

FINALIZING
15. Prepare touiles. Pre heat an oven at 230 C (450 F).
16. Line baking trays with butter paper and keep aside.
17. In a medium sized bowl, combine all the ingredients (apart from butter) and beat well.
18. Add melted butter and mix well.
19. Place spoonfuls of mixture on to lined baking tray and spread mixture to shape into 2 inch diameter circles.
20. Bake in pre heated oven for 3 to 4 minutes.
21. Once baked, remove from oven and place on to a working surface using a palette knife, while still warm.
22. Immediately place each warm biscuit over a rolling pin and press or roll gently once. Keep aside to cool.
23. Once set, gently remove curved biscuits off rolling pin and keep aside.

SERVING
24. Loosen edges of chilled custard using a sharp knife and un mould on to a serving plate.
25. Serve chilled garnished with single cream and Tuiles.