»

Recipes

»

Indian

»

Samosa

»

Cocktail Paneer Samosa
Cocktail Paneer Samosa Recipe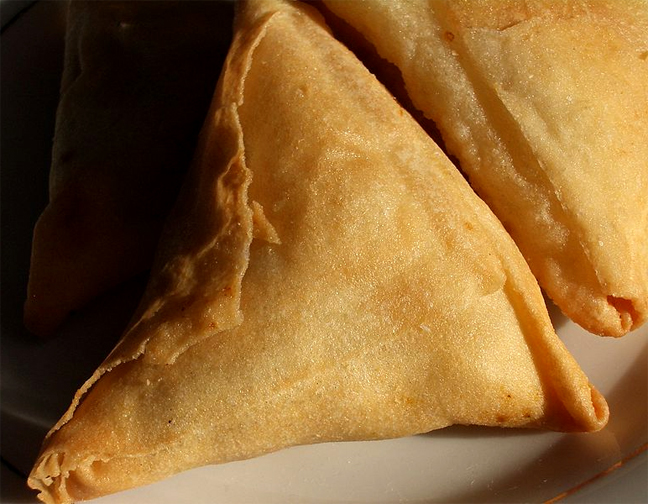 Ingredients
Plain flour

3⁄4 Cup (12 tbs)

(Maida)

Semolina

1⁄4 Cup (4 tbs)

(Suji)

Baking powder

1 Pinch

Salt

1⁄4 Teaspoon

Ghee/Margarine

2 Tablespoon

(Vanaspati, use semi heaped tablespoon)

For filling

Paneer

200 Gram

, grated

Boiled potatoes

2 Small

, coarsely mashed

Oil

3 Tablespoon

Ginger

1⁄4 Inch

, finely chopped

Red chili powder

1⁄2 Teaspoon

Salt

To Taste

Roasted cumin seeds

3⁄4 Teaspoon

(Jeera)

Garam masala

3⁄4 Teaspoon

(Mixed Spices)

Amchoor

1⁄4 Teaspoon

(Dried Mango Powder)

Cashew pieces

1 Tablespoon

(Kaju Bits)

Raisins

1 Tablespoon

(Kishmish)

Green chilies

2

, finely chopped

Sugar

1⁄4 Teaspoon
Nutrition Facts
Serving size: Complete recipe
Calories 1704 Calories from Fat 794
% Daily Value*
Total Fat 90 g139.2%
Saturated Fat 28 g140.2%
Trans Fat 0 g
Cholesterol 100.4 mg33.5%
Sodium 1739.6 mg72.5%
Total Carbohydrates 181 g60.4%
Dietary Fiber 12.2 g48.6%
Sugars 20.4 g
Protein 46 g91.5%
Vitamin A 12.5% Vitamin C 98.9%
Calcium 41.9% Iron 83.4%
*Based on a 2000 Calorie diet
Directions
1. Mix maida, suji, salt, baking pd. and ghee.
2. Add a few tbsp of water and knead to form a stiff dough.
3. Keep covered for 1/2 hour.
4. Heat oil. Put off the fire. Add ginger. Add salt, red chilli pd, garam masala, zeera, and amchoor. Return to fire.
5. Add nuts. Cook for a few seconds.
6. Add potatoes. Cook for 1/2 minute.
7. Add paneer. Mix well. Add sugar and green chillies.
8. Cover and cook on slow fire for 3-4 minutes. Make the filling spicy. Keep aside.
9. Make marble sized balls of the dough.
10. Roll out thinly. Cut into two.
11. Fold each half into a triangle to form a cone.
12. Seal the cone by applying water. Fill 1 tbsp of the filling inside the cone.
13. Make a small fold or pleate on the joint of the cone.
14. Now close the cone with water. Press the side opposite to the pointed side against a plate, giving it a samosa look.
15. Heat oil. Deep fry 8-10 pieces at a time on slow fire.
Image Courtesy :
http://commons.wikimedia.org/wiki/File:Samosa_1.jpg