»

Recipes

»

Salad

»

Cobb Salad
Cobb Salad Recipe
Iceberg lettuce, blue cheese and red wine vinegar are all super foods that are in this classic recipe. Fact: Iceberg lettuce contains dietary fibers along with Omega fatty acid which helps with overall good health.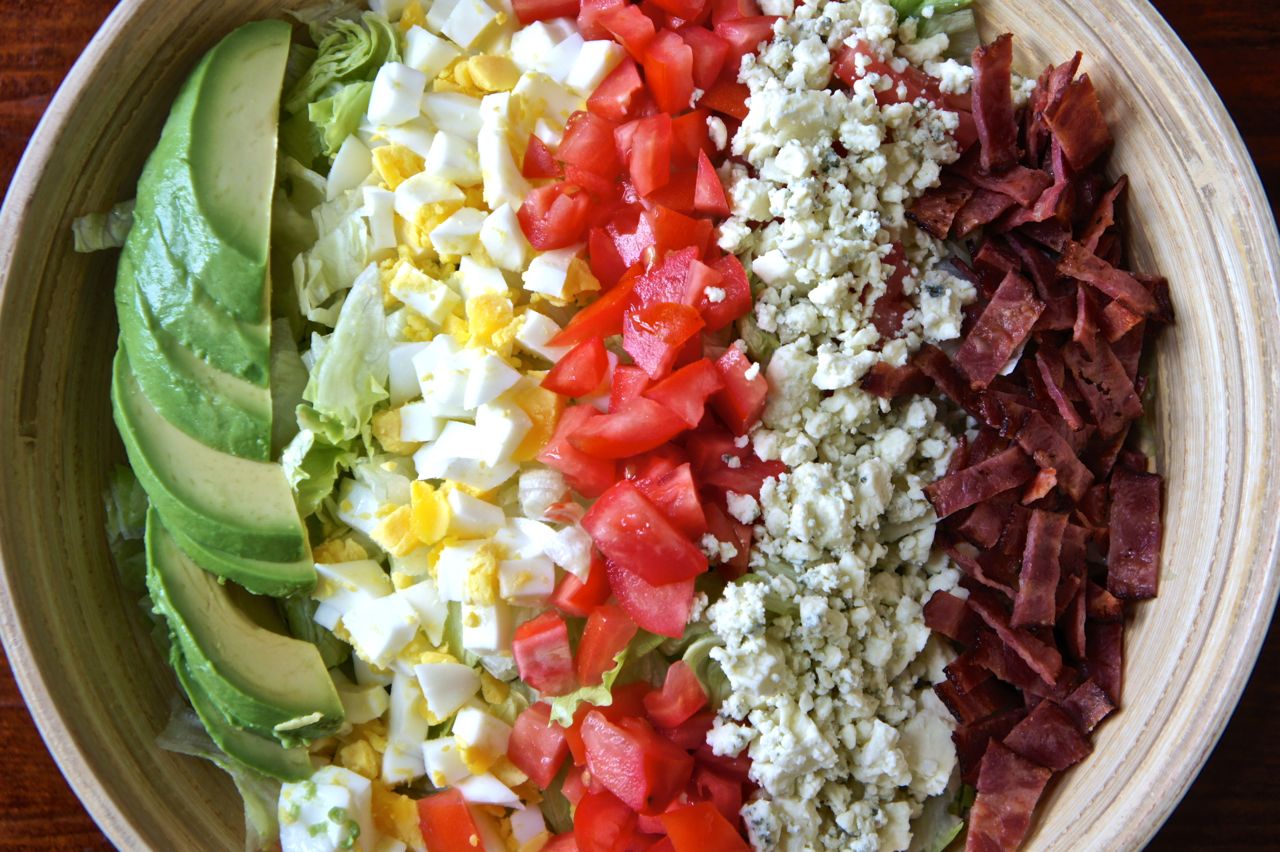 Ingredients
Iceberg lettuce

5 Cup (80 tbs)

(chopped)

Blue cheese

4 Ounce

(crumbled)

Hard boiled eggs

2

(chopped, Recipe at www.amateurkitchen.tv/Easter_Eggs.html)

Roma tomatoes

2

(seeded and chopped)

Avocado

1⁄2

(sliced)

Turkey bacon

5

(sliced, chopped)

Extra virgin olive oil

3 Tablespoon

Red wine vinegar

2 Tablespoon

Fresh lemon juice

1 Tablespoon

Worcestershire sauce

1 1⁄2 Teaspoon

Dijon mustard

1 Teaspoon

Garlic clove

1

(minced)

Salt and pepper

To Taste
Nutrition Facts
Serving size
Calories 361 Calories from Fat 243
% Daily Value*
Total Fat 27 g41.7%
Saturated Fat 7.7 g38.4%
Trans Fat 0 g
Cholesterol 147.9 mg49.3%
Sodium 635.4 mg26.5%
Total Carbohydrates 15 g4.9%
Dietary Fiber 4 g15.8%
Sugars 6.5 g
Protein 15 g30.2%
Vitamin A 28.6% Vitamin C 24.7%
Calcium 18.4% Iron 5.6%
*Based on a 2000 Calorie diet
Directions
Place iceberg lettuce into a large bowl and top with blue cheese, chopped eggs, tomatoes, avocado and turkey bacon.
In a separate large bowl whisk together all the dressing ingredients. Right before serving drizzle dressing over the salad, toss together, serve and enjoy!