»

Recipes

»

Italian

»

Classic Ragu Bolognese With Pasta
Classic Ragu Bolognese with Pasta Recipe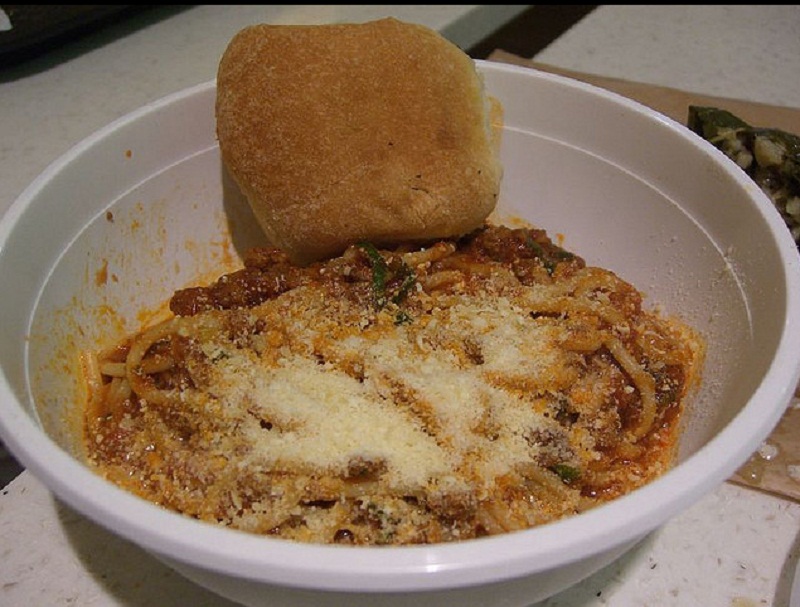 Ingredients
Butter

2 Ounce

(60 Gram)

Extra virgin olive oil

2 Tablespoon

Unsmoked streaky bacon/Unsmoked pancetta

2 Ounce

, finely chopped (60 Gram)

Onion

1 Small

, finely chopped

Carrot

1

, finely chopped

Stalk celery

1

, finely chopped

Garlic

1 Clove (5 gm)

, finely chopped

Bay leaf

1

Lean chuck steak

1 Pound

, coarsely minced (500 Gram)

Tomato puree

2 Tablespoon

Red wine

5 Fluid Ounce

(150 Milliliter)

Meat stock/Water

5 Fluid Ounce

(150 Milliliter)

Milk

5 Fluid Ounce

(150 Milliliter)

Salt

To Taste

Black pepper

To Taste

Nutmeg

To Taste

Dried pasta

1 Pound

(500 Gram)

Freshly grated parmesan

2 Ounce

(To Serve)
Nutrition Facts
Serving size
Calories 633 Calories from Fat 226
% Daily Value*
Total Fat 25 g38.6%
Saturated Fat 10.2 g51.1%
Trans Fat 0 g
Cholesterol 80.9 mg
Sodium 482.3 mg20.1%
Total Carbohydrates 62 g20.5%
Dietary Fiber 3.6 g14.6%
Sugars 6 g
Protein 32 g63.7%
Vitamin A 41.4% Vitamin C 5.4%
Calcium 15.3% Iron 10.1%
*Based on a 2000 Calorie diet
Directions
Melt butter and oil in a large, heavy-based pot over medium-high heat.
Add pancetta and cook, stirring frequently, until coloured, 5 minutes.
Add onion, carrot, celery, garlic and bay leaf and cook, stirring frequently, until soft, 8 minutes.
Add minced steak and cook, crumbling with a fork to break up, until browned.
Turn heat to medium.
Add tomato puree and cook, stirring constantly, 1 minute.
Add wine and stock or water.
Bring to a boil, then turn heat down to very low.
Simmer, partially covered, stirring occasionally and adding milk 2 tbsp at a time every 20-30 minutes.
Cook until thick and rich, 2 hours.
Add salt, pepper and nutmeg to taste.
Meanwhile, cook pasta in a large pot of boiling, salted water until firm to the bite.
Drain.
Add drained pasta to hot ragu.
Toss well to coat.
Serve immediately with parmesan.
Image Courtesy :
http://www.flickr.com/photos/avlxyz/431317565/

Kaneez Bano says :
This recipe has been copied from my blog. Classic Ragu Bolognese I am working hard to bring the best of my recipes. Please link it to my post for reference or it will be count as a copyright.I will appreciate for your quick and kind response. Don't forget to visit my blog for quality recipes at http://www.pastaitaliano.tk/ thanks
Posted on:
4 November 2011 - 5:15am
Hi Kaneez, I doubt this recipe has been copied from your blog. I actually visited your blog and noticed that the recipe of Classic Ragu Bolognese was written by you in October this year. This recipe as uploaded on our site in March this year. Thus it could not have been copied from your blog. If you want to promote your blog, you could upload your recipes on ifood.tv and provide a link to your blog if you like.
Posted on:
7 November 2011 - 11:23am