»

Recipes

»

Lasagna

»

Classic Cheese Lasagna With Meat Sauce
Classic Cheese Lasagna With Meat Sauce Recipe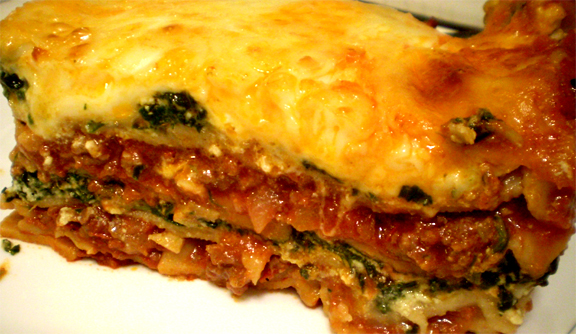 Ingredients
Lasagna noodles

3⁄4 Pound

Freshly grated parmesan cheese

2 Tablespoon

For cheese filling

Trimmed spinach

3 Cup (48 tbs)

(Fresh)

Ricotta cheese

3⁄4 Pound

Egg

1

, beaten

Chopped fresh basil

2 Tablespoon

Chopped fresh chives

2 Tablespoon

Bechamel sauce

1 Cup (16 tbs)

For meat sauce

Lean ground beef

1⁄3 Pound

Sliced mushrooms

1 Cup (16 tbs)

Onion

1

, chopped

Garlic

1 Clove (5 gm)

, minced

Tomato sauce

1 Cup (16 tbs)

Salt

1⁄2 Teaspoon

Pepper

To Taste
Nutrition Facts
Serving size: Complete recipe
Calories 2686 Calories from Fat 828
% Daily Value*
Total Fat 93 g143.6%
Saturated Fat 45 g225.2%
Trans Fat 0 g
Cholesterol 517.3 mg
Sodium 2782.9 mg116%
Total Carbohydrates 311 g103.6%
Dietary Fiber 21.6 g86.5%
Sugars 38.5 g
Protein 153 g306.9%
Vitamin A 309.5% Vitamin C 157.7%
Calcium 161.5% Iron 99.4%
*Based on a 2000 Calorie diet
Directions
CHEESE FILLING: Rinse spinach under water; shake off excess.
In saucepan, cover spinach and cook, with just the water clinging to leaves, over medium-high heat for about 5 minutes or just until wilted.
Drain well and squeeze dry; chop and place in bowl.
Stir in ricotta, egg, basil and chives.
Stir in 3/4 cup (175 mL) of the Bechamel Sauce.
Set aside.
MEAT SAUCE: In skillet, cook beef, mushrooms, onion and garlic over medium-high heat, breaking up meal with back of spoon, for about 5 minutes or until meat is no longer pink.
Drain off any fat.
Add tomato sauce, salt, and pepper to taste; simmer for 1.0 minutes.
Meanwhile, in large pot of boiling salted water, cook noodles for 6 to 8 minutes or until almost tender.
Drain and cool in cold water; drain well and arrange in single layer on clamp tea towel.
Arrange one-quarter of the noodles over bottom of lightly greased 12- x 8-inch (3 L) baking dish; cover with half of the cheese filling.
Top with second layer of noodles; cover with meat sauce.
Add another layer of noodles, remaining cheese filling and final layer of noodles.
Spread with remaining Bechamel Sauce; sprinkle with Parmesan.
Bake in 350°F (180°C) oven for 40 to 50 minutes or until lightly browned and bubbly.
Let stand for 10 minutes.