»

Recipes

»

Puff

»

Clam Puffs
Clam Puffs Recipe
Simple yet delicious this Clam Puffs is more than just a snack; the exciting combination of flavors is sure to leave your mouth watering. Use this quick and easy to make recipe to try your own homemade Clam Puffs!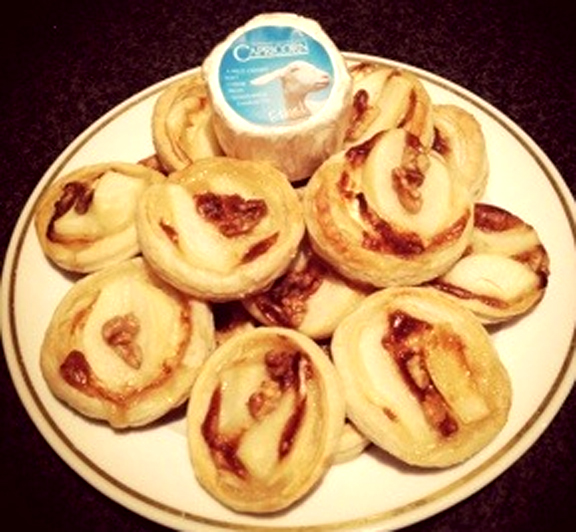 Ingredients
Relish cheese spread

10 Ounce

Egg yolk

1

Baking powder

1⁄2 Teaspoon

Ground pepper

1 Dash

Worcestershire sauce

1⁄4 Teaspoon

Cayenne pepper

1 Dash

Salt

1⁄2 Teaspoon

Minced clams

7 Ounce

(Drained)

Pastry

1
Nutrition Facts
Serving size: Complete recipe
Calories 1188 Calories from Fat 760
% Daily Value*
Total Fat 78 g119.7%
Saturated Fat 43.4 g217.2%
Trans Fat 0 g
Cholesterol 401.6 mg
Sodium 7168.3 mg298.7%
Total Carbohydrates 58 g19.5%
Dietary Fiber 2.2 g8.7%
Sugars 30.2 g
Protein 63 g126%
Vitamin A 67.2% Vitamin C 0.78%
Calcium 174.7% Iron 4.9%
*Based on a 2000 Calorie diet
Directions
Blend together cheese, egg yolk, baking powder and season- ings.
Add the drained clams and mix well.
Heat oven to very hot (450°F.).
Roll the pastry to 1/8 -inch thickness and cut into rounds with a 13/4 -inch cutter.
Cover each round generously with the relish mixture.
Place each round in the center of an aluminum foil circle.
Sprinkle cheese mixture with paprika if desired and bring up the edges of the aluminum foil around the pastry rounds.
Place in the oven for about 15 minutes or until the pastry is done and the cheese mixture is puffed and brown.
Remove the foil and serve hot.