»

Recipes

»

Cinnamon

»

Cinnamon Twists
Cinnamon Twists Recipe
Cinnamon Twists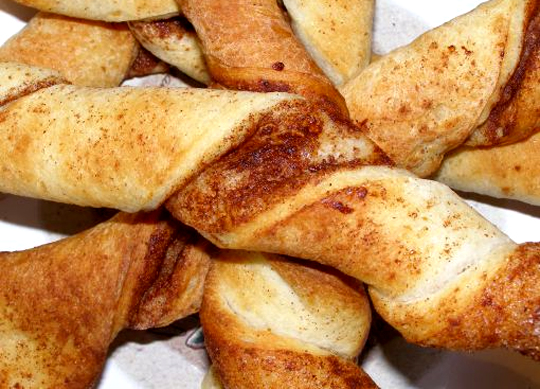 Ingredients
Sour cream

1 Cup (16 tbs)

Sugar

3 Tablespoon

Soda

1⁄8 Teaspoon

Salt

1⁄8 Teaspoon

Yeast

1 Tablespoon

Egg

1

Soft shortening

2 Tablespoon

Flour

3 Cup (48 tbs)

, sifted

Soft butter

2 Tablespoon

Cinnamon sugar

To Taste
Nutrition Facts
Serving size
Calories 106 Calories from Fat 40
% Daily Value*
Total Fat 5 g7%
Saturated Fat 2.1 g10.7%
Trans Fat 0.2 g
Cholesterol 16.5 mg
Sodium 28.5 mg1.2%
Total Carbohydrates 14 g4.8%
Dietary Fiber 0.47 g1.9%
Sugars 2.3 g
Protein 2 g4.3%
Vitamin A 1.9% Vitamin C 0.14%
Calcium 1.4% Iron 4.5%
*Based on a 2000 Calorie diet
Directions
GETTING READ
1) Preheat oven to 375° F.

MAKING
2) Take a large saucepan and heat sour cream in it until lukewarm.
3) Remove from heat. Add soda, sugar, yeast and salt. Stir until dissolved.
4) Add shortening, flour and egg. Mix nicely.
5) Turn the dough on a floured board and fold over several times until smooth.
6) Roll out the dough into a 24 x 6-inch rectangle.
7) Spread the dough with butter. Sprinkle half of the dough with cinnamon sugar.
8) Fold over and cut into 24 strips of 1 inch each.
9) Hold the strips at both ends and twist in opposite directions.
10) Place the twisted strips 2 inches apart on a greased baking sheet.
11) Press both ends of the twists on the sheet.
12) Cover and let rise for 1 hour or until light.
13) Bake for about 12 minutes.

SERVING
14) Frost the twists, if desired. Serve warm.