»

Recipes

»

Bread

»

Cinnamon-Nut Bread
Cinnamon-Nut Bread Recipe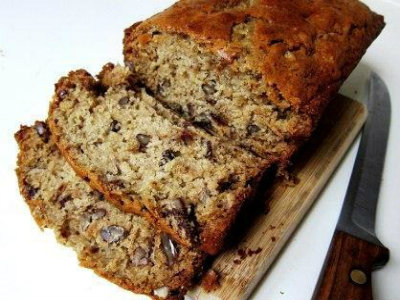 Ingredients
Raisins

1 1⁄2 Cup (24 tbs)

Shortening

1⁄4 Cup (4 tbs)

Sugar

1 Cup (16 tbs)

Molasses

1 Tablespoon

Flour

3 Cup (48 tbs)

Salt

1⁄2 Teaspoon

Soda

1 Teaspoon

Baking powder

2 Teaspoon

Cinnamon

1⁄2 Teaspoon

Nuts

1 1⁄2 Cup (24 tbs)

, chopped
Nutrition Facts
Serving size: Complete recipe
Calories 4756 Calories from Fat 1567
% Daily Value*
Total Fat 171 g263.2%
Saturated Fat 32.7 g163.5%
Trans Fat 6.7 g
Cholesterol 0 mg
Sodium 3937.3 mg164.1%
Total Carbohydrates 754 g251.3%
Dietary Fiber 36.8 g147.1%
Sugars 376.7 g
Protein 93 g186.2%
Vitamin A 0.1% Vitamin C 10.5%
Calcium 129.3% Iron 136.6%
*Based on a 2000 Calorie diet
Directions
"Preheat oven to 350 degrees.
Place raisins in 1/2 cup boiling water; cool.
Drain raisins; reserve water.
Cream shortening, sugar and molasses.
Sift flour, salt, soda, baking powder and cinnamon together.
Add flour mixture to creamed mixture alternately with reserved raisin water, mixing well.
Fold in raisins and nuts.
Spoon batter into 6 greased and floured soup cans.
Bake for 30 minutes or until bread tests done."