»

Recipes

»

Cinnamon

»

Cinnamon Stars
Cinnamon Stars Recipe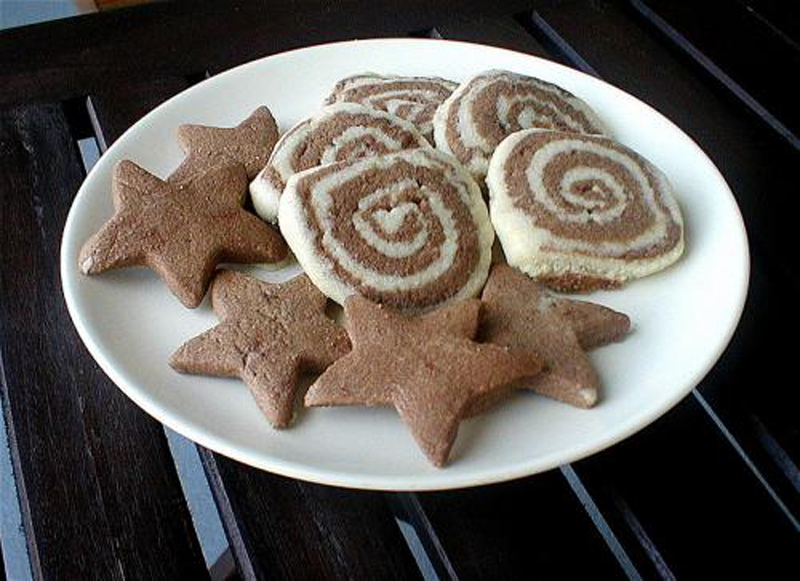 Ingredients
Blanched almonds

1 Pound

Cinnamon

2 Teaspoon

Grated lemon rind

1 Teaspoon

Egg whites

5

Salt

1 Dash

Confectioner's sugar

2 Cup (32 tbs)

, sifted
Nutrition Facts
Serving size: Complete recipe
Calories 3692 Calories from Fat 1925
% Daily Value*
Total Fat 230 g353.8%
Saturated Fat 17.7 g88.4%
Trans Fat 0 g
Cholesterol 0 mg
Sodium 490.3 mg20.4%
Total Carbohydrates 340 g113.5%
Dietary Fiber 53 g212%
Sugars 256 g
Protein 116 g231.6%
Vitamin A 1.3% Vitamin C 11.4%
Calcium 109.7% Iron 99.2%
*Based on a 2000 Calorie diet
Directions
Work almonds through a nut grinder or blend in an electric blender.
Set aside.
Beat egg whites and salt until they hold a shape.
Beat in confectioners' sugar, a little at a time, and continue beating until the mixture stands in peaks.
Stir in the cinnamon and grated lemon rind.
Transfer about one third of the mixture to another bowl to use later as a glaze.
Fold ground almonds into remaining mixture and blend thoroughly.
Pat half the mixture at a rime on a board or pastry cloth lightly sprinkled with additional confectioners' sugar.
Pat about 1/3 inch thick, dusting the palm of your hand frequently with confectioners' sugar if mixture seems sticky.
Cut with a small star or round cutter and place on a greased cookie sheet.
Brush tops with reserved egg white mixture and bake in a preheated 300° oven for 20 minutes or until edges begin to firm (the color remains the same).