»

Recipes

»

Bread
Cinnamon Bread Recipe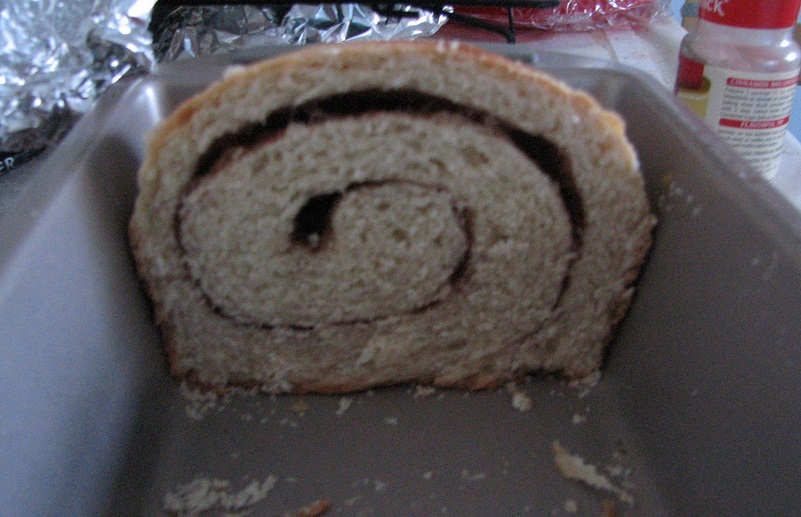 Ingredients
Salt

1 Tablespoon

Shortening

1⁄2 Cup (8 tbs)

Milk

1 Cup (16 tbs)

, scalded

Cold water

1⁄2 Cup (8 tbs)

Dry yeast

1⁄4 Ounce

(1 Package)

Warm water

1⁄4 Cup (4 tbs)

Egg

1

, beaten

All purpose flour

6 Cup (96 tbs)

Softened butter

2 Tablespoon

Sugar

1⁄2 Cup (8 tbs)

Cinnamon

4 Teaspoon
Nutrition Facts
Serving size: Complete recipe
Calories 4516 Calories from Fat 1297
% Daily Value*
Total Fat 147 g226.2%
Saturated Fat 48.1 g240.3%
Trans Fat 13.5 g
Cholesterol 298.6 mg
Sodium 6009.9 mg250.4%
Total Carbohydrates 703 g234.5%
Dietary Fiber 32.4 g129.4%
Sugars 114.7 g
Protein 95 g189.6%
Vitamin A 25.7% Vitamin C 1.3%
Calcium 61.8% Iron 215.3%
*Based on a 2000 Calorie diet
Directions
In large mixing bowl, combine 1/3 cup sugar, salt, shortening and hot milk. Stir until shortening melts. Add cold water.
Dissolve yeast in warm water. Add to milk mixture. Add egg. Stir well.
Add enough flour to form soft dough. Knead on floured surface 3 minutes until smooth. Place in large well-greased mixing bowl. Turn once to grease surface. Let rise 1 hour or until double in size.
Punch dough down. Divide dough in half.
On lightly floured surface, roll half of dough to 12" x 8" rectangle. Spread half of butter over dough.
Combine 1/2 cup sugar and cinnamon. Sprinkle half of sugar mixture over buttered surface.
Starting from long side, roll in jelly roll fashion. Repeat with remaining dough, butter and sugar mixture. Place on greased baking sheet and let rise until double in size.
Preheat oven in Convection Bake to 375°F (*350°F).
Convection Bake for 30 to 40 minutes or until golden brown.
Image Courtesy :
http://www.flickr.com/photos/sweetfixnyc/4239870934/