»

Recipes

»

Pie

»

Chunky Shepherds Pie
Chunky Shepherds Pie Recipe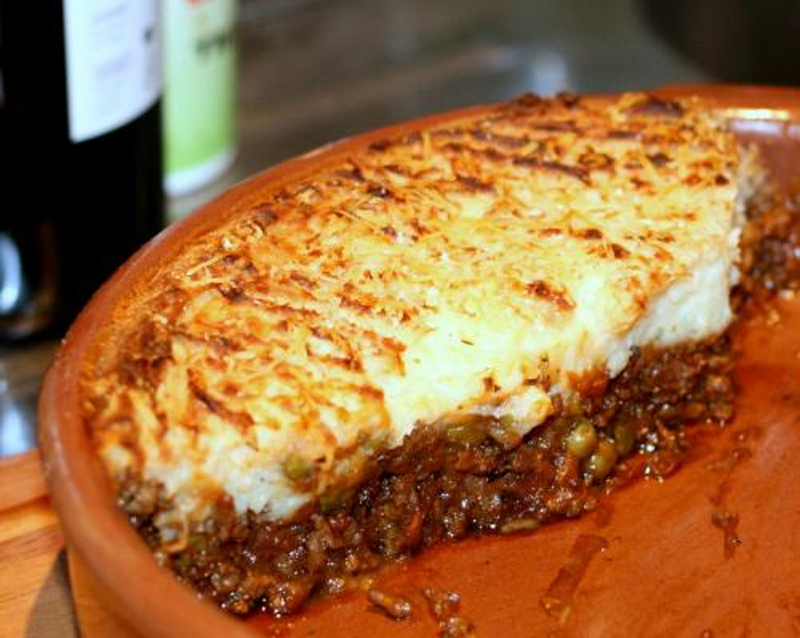 Ingredients
Oil

30 Milliliter

Chuck

500 Gram

Trimmed of fat and cut in 2.5 cm

(1-inch) cubes

2 lamb's kidneys, cored and sliced

Onion

1

, chopped

2 carrots, peeled and cut into 5 mm

1/4-inch) slices

Bisto

250 Milliliter

, made

Bisto

250 Milliliter

, made

Rich Gravy Granules as directed

Worcestershire sauce

10 Milliliter

Red wine vinegar

30 Milliliter

Potatoes

750 Gram

, peeled (Topping:)

Boiled

Butter

25 Gram

(Topping:)

1 size 3 egg, beaten

Salt

1 To taste

(Topping:)

4. Mash the potatoes with the butter. Beat in the egg and season with salt.

Spoon the potato into a piping bag fitted with a large star nozzle and pipe

Rows of potato over the steak and kidney mixture. Alternatively, spoon the

Potato over the meat mixture and spread it out evenly with a fork.

5. Preheat the oven to 180°C/350°F/Gas Mark 4. Sprinkle with the sesame

Seeds. Bake on a baking sheet for 45-50 minutes until hot; brown under a

Grill before serving if you like.
Directions
1.
Heat the oil in a large pan and fry the beef and kidneys over a brisk heat, stirring frequently, until browned on all sides.
Remove.
2.
Add the onion and carrots and cook gently for 3-4 minutes.
Pour in the gravy, add the Worcestershire sauce and vinegar and bring to the boil.
Add the meat, cover and simmer gently for 1 1/2 hours stirring from time to time.