»

Recipes

»

European

»

Choucroute Garnie
Choucroute Garnie Recipe
This Choucroute Garni is a delicious platter of pork roll, vegetables, sauerkraut, bratwurst flavored with gin and juniper berry extract. Try this Choucroute Garni and let me know if you like it.
Choucroute Garni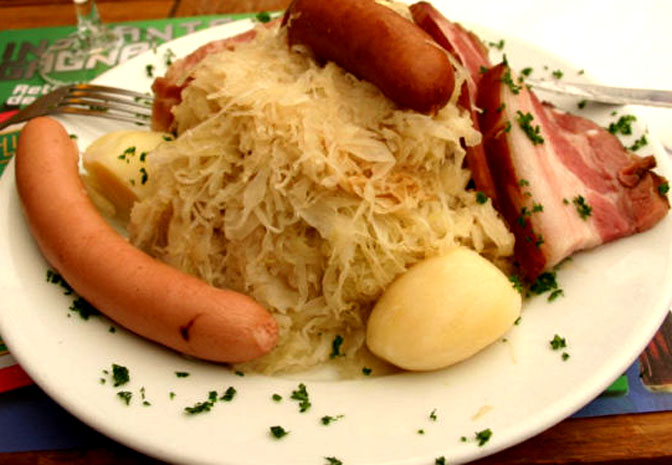 Ingredients
Smoked pork shoulder roll

2 Pound

(1 Piece)

Boneless pork shoulder blade roast

2 Pound

(1 Piece)

Dry white wine

2 Cup (32 tbs)

Canned chicken broth

14 1⁄2 Ounce

(1 Can)

Juniper berries/2 tablespoons gin

8

Onions

6 Medium

, each cut into half

Potatoes

8 Medium

, each cut into half

Bratwurst/Frankfurters

6

Sauerkraut

32 Ounce

, well drained (2 Bags / Cans, 16 Ounce Each)
Nutrition Facts
Serving size: Complete recipe
Calories 6853 Calories from Fat 2986
% Daily Value*
Total Fat 330 g508.1%
Saturated Fat 115.1 g575.3%
Trans Fat 1 g
Cholesterol 1365.2 mg
Sodium 10531 mg438.8%
Total Carbohydrates 440 g146.6%
Dietary Fiber 77.8 g311.1%
Sugars 91.2 g
Protein 488 g976.7%
Vitamin A 5.8% Vitamin C 829.1%
Calcium 119.6% Iron 216.9%
*Based on a 2000 Calorie diet
Directions
1. Remove stockinette casing (if any) from pork roll or follow label directions regarding stockinette casing. In 10- to 12-quart saucepot, over high heat, heat pork shoulder roll, pork shoulder blade roast, wine, chicken broth, and juniper berries or gin to boiling. Reduce heat to low; cover and simmer 1 1/2 hours.
2. Add remaining ingredients in layers: first onions, then potatoes, bratwurst, sauerkraut; over high heat, heat to boiling. Reduce heat to low; cover tightly and simmer 35 to 40 minutes, until the meat and vegetables are fork-tender.
3. With slotted spoon, place the sauerkraut, bratwurst, potatoes, and onions on warm large platter; keep warm. When pork roll is done, remove casing, if any. Slice pork roll and shoulder blade roast, and arrange on platter with vegetables. Skim fat from pan liquid; discard juniper berries. Pass liquid in gravy boat to spoon over meat and vegetables.