»

Recipes

»

Chinese
Chop Suey Recipe
Chop suey is a traditional Chinese dish made with all types of meats. It is now a part of various cuisines like American, Filipino, Canadian, Indian and Indonesian. Chop suey is served with noodles and rice.
Beef Chop Suey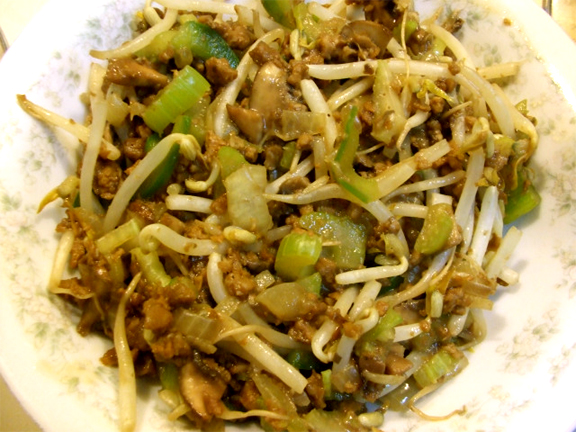 Ingredients
Chicken, beef, pork

2 Cup (16 tbs)

Onions

2 Small

Celery-4 stalks

Consomme-1 1/4 cups

Soy sauce

1 Tablespoon

Sugar

1/2 Teaspoon

Pepper

1/8 Teaspoon

Chinese mixed vegetables- No.2 can about 21/4 cups

Peanut or salad oil -1/4 cup

Cornstarch

1 Tablespoon
Directions
GETTING READY
1)Chop meat, onions and celery.
2)In a bowl, mix 1 cup consommé, soy sauce, sugar, and pepper.
3)Drain vegetables.

MAKING
4)In a blazer pan, heat oil on hot fire.
5)Add meat and brown it.
6)Add onions and celery and cook for 5 minutes.
7)Add consomme' and heat through.
8)Add vegetables and heat to boiling point.
9)In a bowl, dissolve cornstarch with 1/4 cup consommé and add to pan.
10)Cook for 5 minutes and keep hot.

SERVING
11)Serve Chinese-style with fried noodles, fluffy hot rice, slivered almonds and additional soy sauce.