»

Recipes

»

Indian

»

Chole

»

Chole Bhature
Chole Bhature Recipe
Cholle - Bhature is one of the most popular dishes from Punjab. Every one has their own recipe for Cholle-bhature. All my friends/family loves my recipe of this dish.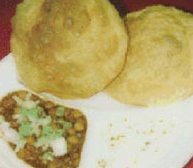 Summary
Preparation Time
30 Min
Cooking Time
25 Min
Ready In
55 Min
Difficulty Level
Medium
Health Index
Average
Servings
4
Ingredients
Chickpeas/1 can of chick peas

1 1⁄2 Cup (24 tbs)

Chopped onion

3⁄4 Cup (12 tbs)

Tomato

1 Large

Ginger garlic paste

1⁄2 Teaspoon

Green cardamom

1

Cloves

3

Coriander seeds

1⁄2 Teaspoon

Cumin seeds

1⁄2 Teaspoon

Fenugreek seeds

1⁄4 Teaspoon

(Methi)

Black salt

To Taste

(Rock Salt)

Black pepper

To Taste

Black peppers

To Taste

Chili powder

1⁄2 Teaspoon

Coriander leaves

3

Coriander leaves strand

3

Maida/All purpose flour

2 Cup (32 tbs)

Baking powder

1⁄2 Teaspoon

Yogurt

1⁄2 Cup (8 tbs)

Sugar

1 Teaspoon

Oil/Ghee

3 Tablespoon

Salt

To Taste
Nutrition Facts
Serving size
Calories 657 Calories from Fat 156
% Daily Value*
Total Fat 18 g27.6%
Saturated Fat 2.7 g13.5%
Trans Fat 0 g
Cholesterol 3.7 mg1.2%
Sodium 222.5 mg9.3%
Total Carbohydrates 103 g34.5%
Dietary Fiber 17.2 g68.6%
Sugars 13.4 g
Protein 23 g46.7%
Vitamin A 17.2% Vitamin C 21.9%
Calcium 20.4% Iron 51.4%
*Based on a 2000 Calorie diet
Directions
Bhature Method:
Mix all the ingredients(except oil) to form a uniform dough and keep it aside for 1hr.
Take a small ball of the dough and roll into the desired sized Bhature.
Deep fry the Bhature in oil.

Cholle Method:
Soak chick peas in water overnight and cook them. If canned peas are used, wash the peas 2-3 times.
Blanch tomatoes (heat water and cook the whole tomato for 3-4 minutes). Blend into a smooth paste.
Dry roast all masalas from cardamom to black pepper and powder them.
Heat oil/ghee, fry onions and ginger-garlic paste till the onions turn slightly brownish.
Add the tomato paste and the masala powder, chili powder, salt (add less salt as the masala has rock salt in it). Cook for 2-3 minutes. Add the cooked chick peas and cook for another 5mins. Garnish with coriander leaves.
If you want more gravy, increase the tomato and onions.
Serve hot with Bhature.

Anonymous says :
Thx this was great!
Posted on:
8 June 2012 - 9:46am