»

Recipes

»

French

»

Souffle
Chocolate Souffle Recipe
Chocolate Souffle is a light dessert which can be made to serve right after dinner. It is very easy to make and takes little time to prepare. You can make and serve chocolate souffle anytime you like.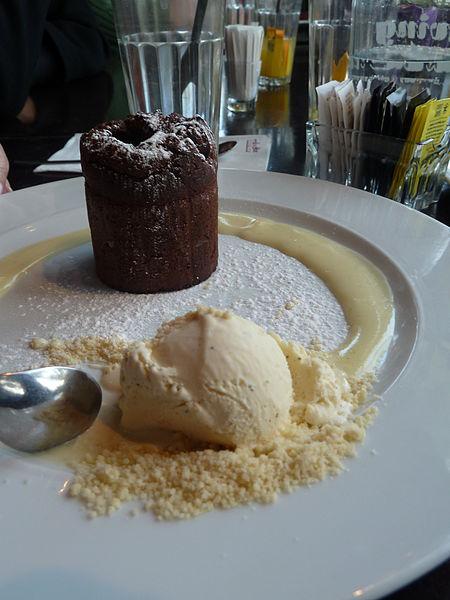 Ingredients
Macaroons

1⁄2 Cup (8 tbs)

, crushed

Unsweetened chocolate square

2

Milk

2 Cup (32 tbs)

Sugar

1⁄2 Cup (8 tbs)

All purpose flour

1⁄3 Cup (5.33 tbs)

Salt

1⁄2 Teaspoon

Butter/Margarine

2 Tablespoon

Vanilla

1 Teaspoon

Egg yolks

4

, beaten (Until Thick And Lemon Colored)

Egg whites

4

, stiffly beaten

Whipped cream

1 Tablespoon

(Sweetened)
Nutrition Facts
Serving size
Calories 286 Calories from Fat 99
% Daily Value*
Total Fat 17 g25.7%
Saturated Fat 9.4 g46.9%
Trans Fat 0 g
Cholesterol 108.9 mg
Sodium 217.8 mg9.1%
Total Carbohydrates 30 g10.1%
Dietary Fiber 1.8 g7.3%
Sugars 19.7 g
Protein 7 g14.1%
Vitamin A 5.3% Vitamin C
Calcium 11% Iron 12.4%
*Based on a 2000 Calorie diet
Directions
MAKING
1)On top of double boiler, melt chocolate in milk over boiling water.
2)Beat with rotary beater until well blended.
3)Add sugar, flour and salt and add some chocolate mixture. Stir until smooth.
4)Return to double boiler containing rest of chocolate mixture, and cook until thickened, stirring constantly.
5)Continue cooking for 5 minutes. Stir occasionally.
6)Fold in butter and vanilla and cool slightly.
7)Add egg yolks and mix well.
8)Add egg whites and mix well.
9)Take a buttered 1 1/2 quart casserole and pour the mixture.
10)Place the casserole in a pan of hot water and bake at 350 degrees for 1 hour and 15 minutes, or until firm.

SERVING
11)Serve at once with whipped cream.

Anonymous says :
how can this be vegan if it contains eggs and dairy products?
Posted on:
8 November 2011 - 1:41am
Hi, there is no tag or mention of this dessert being a vegan one. What gave you the impression that it was vegan?
Posted on:
11 January 2012 - 3:44am