»

Recipes

»

Mousse
Chocolate Mousse Recipe
Here I am posting a special chocolate mousse recipe for you. This dessert is equally liked by my friends as well, and whenever we meet on weekends we surely try this dessert. It really tastes good. If you too want to enjoy the weekend, you can try out this chocolate mousse recipe.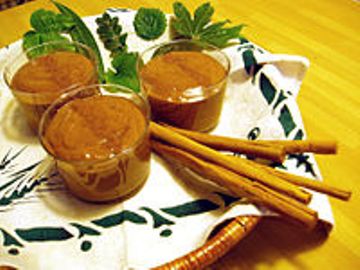 Ingredients
Powdered sugar

3 Tablespoon

Strong coffee

3 Tablespoon

, brewed

Egg yolks

3

Whipping cream

1 Cup (16 tbs)
Nutrition Facts
Serving size
Calories 298 Calories from Fat 206
% Daily Value*
Total Fat 23 g35.2%
Saturated Fat 14.3 g71.7%
Trans Fat 0 g
Cholesterol 221.7 mg
Sodium 22 mg0.9%
Total Carbohydrates 15 g5.1%
Dietary Fiber 0 g
Sugars 14.3 g
Protein 2 g4%
Vitamin A 3.2% Vitamin C
Calcium 4.8% Iron 1.7%
*Based on a 2000 Calorie diet
Directions
Stage1-Melt chocolate in a double boiler or in a pan with hot water.

Stage2-Add sugar, coffee and egg yolks, one at a time.

Stage3-Stir until mixture has thickened.

Stage4- Remove from heat. Let cool. Whip cream.

Stage5-Add to slightly cooled chocolate mixture.

Stage6-Spoon mousse into individual serving dishes. Cover.

Stage7-Let cool in refrigerator for 50 minutes.

Stage8-Garnish each serving with a spoonful of whipped cream.