»

Recipes

»

Cake

»

Chocolate Maraschino Cake
Chocolate Maraschino Cake Recipe
Chocolate maraschino cake is a sweet treat and a chocolaty cake made with unsweetened chocolate and maraschino cherries. Flavored with vanilla and baked with crunchy walnuts in flour, the chocolate marasschino cherry is super hit with children and adult alike.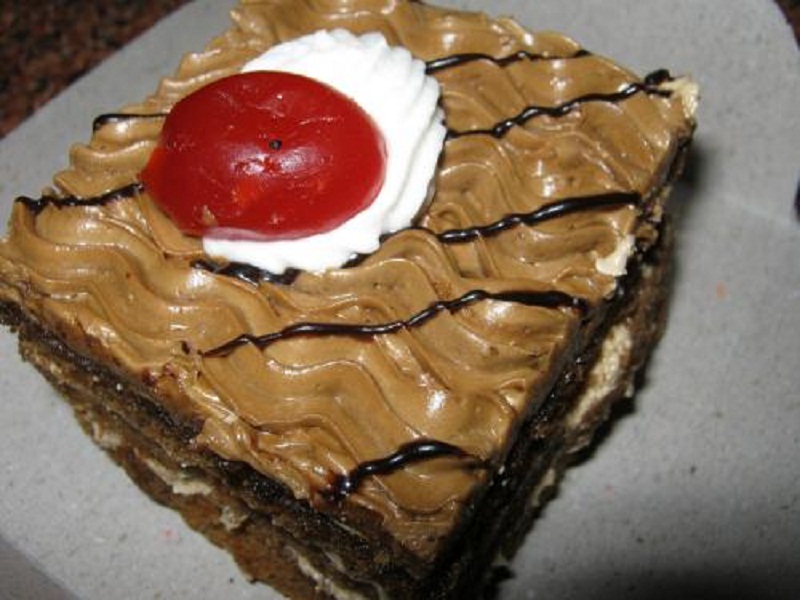 Ingredients
Vanilla extract

1 Teaspoon

Sugar

1 Cup (16 tbs)

Unsweetened chocolate

2

, melted (2 Squares)

Cherries

8 Ounce

(Bottled)

Walnuts

1⁄2 Cup (8 tbs)

Sifted flour

2 Cup (32 tbs)

Baking soda

1 Teaspoon

Salt

1⁄4 Teaspoon

Buttermilk

1 Cup (16 tbs)

Syrup

1 Cup (16 tbs)

(From 8 Ounce Bottle Of Maraschino Cherries)

Egg

1
Nutrition Facts
Serving size: Complete recipe
Calories 3747 Calories from Fat 611
% Daily Value*
Total Fat 73 g111.6%
Saturated Fat 23.9 g119.3%
Trans Fat 0 g
Cholesterol 211.5 mg
Sodium 2191.4 mg91.3%
Total Carbohydrates 756 g252%
Dietary Fiber 24.5 g98%
Sugars 232.4 g
Protein 59 g117.4%
Vitamin A 8% Vitamin C 27.5%
Calcium 28.4% Iron 152.8%
*Based on a 2000 Calorie diet
Directions
Heat oven to 350°.
Grease and flour a 9 x 13 pan.
Sift flour, baking soda and salt together into a mixing bowl.
Put buttermilk, syrup, egg, vanilla and sugar into Osterizer container, cover and process at BLEND until smooth.
Remove feeder cap and add melted chocolate.
Continue to process until well blended.
Stop Osterizer Blender, add cherries and nuts, cover and process only until cherries and nuts are coarsely chopped.
Pour into flour and mix well.
Bake 35 to 45 minutes.
Cool in pan, and frost with Bittersweet Chocolate Frosting.