»

Recipes

»

Cake

»

Chocolate Fudge Cake
Chocolate Fudge Cake Recipe
Chocolate Fudge Cake has a Fantastic taste. The vanilla and chocolate gives the Chocolate Fudge Cake Impressive taste.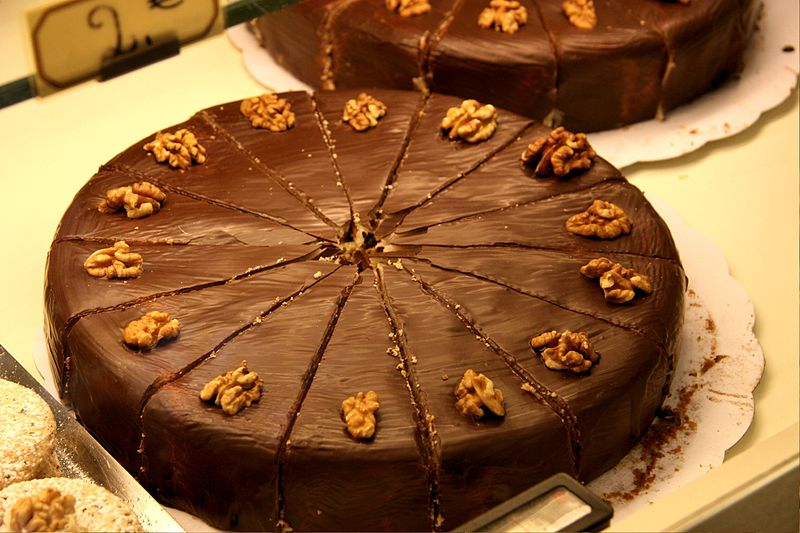 Ingredients
Vegetable shortening

1/3 Cup (16 tbs)

Sugar

1 Cup (16 tbs)

Vanilla

1/2 Teaspoon

Unsweetened chocolate square

2

, cooled

Egg

1

Flour

1 1/4 Cup (16 tbs)

, sifted

Baking soda

1/2 Teaspoon

Salt

1/2 Teaspoon

Water

3/4 Cup (16 tbs)

Semi sweet chocolate chips

1/2 Cup (16 tbs)

Walnut halves

9
Directions
In large mixer bowl, cream vegetable shortening and sugar until fluffy.
Blend vanilla and chocolate into creamed mixture.
Add egg; beat well.
Sift together flour, soda, and salt; add to creamed mixture alternately with water; beat after each addition.
Spread batter in greased and floured 9x9x2 inch baking pan.
Sprinkle top of batter with chocolate chips; arrange nut halves over top.
Bake at 350° for 30 minutes or until done.
Cool in pan.
Cut in squares.
Image Courtesy :
http://simple.wikipedia.org/wiki/Walnut_cake