»

Recipes

»

Chocolate Dipped Strawberries
Chocolate Dipped Strawberries Recipe
Strawberries contain a range of nutrients, with vitamin C being prominent. They can be eaten freely as they are very low in calories. They are also filled with unusual phytonutrient called Phenols that promote your health. Strawberries' unique phenol content makes them a heart-protective fruit, an anti-cancer fruit, and an anti-inflammatory fruit, all rolled into one. Strawberries also provide an excellent source of vitamin K and manganese, as well as folic acid, potassium, riboflavin, vitamin B5, vitamin B6, copper, magnesium, and omega-3 fatty acids. This Recipe of Chocolate Covered Strawberries will make you feel like in heaven. What could be a better combination for an outstanding and irresistible dessert than the fresh tasting juicy strawberries together with a wonderful sweet and soft chocolate cover. Chocolate covered strawberries are a perfect gift for special occasions like birthday, anniversary or Valentine Day.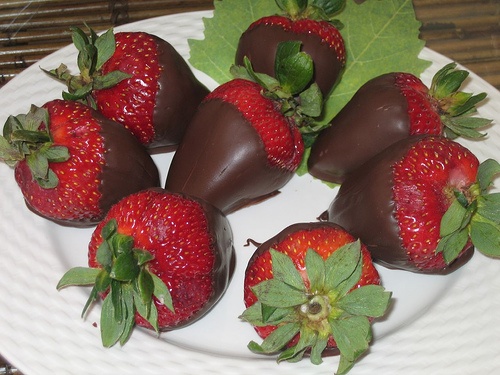 Summary
Preparation Time
10 Min
Cooking Time
20 Min
Ready In
30 Min
Difficulty Level
Very Easy
Health Index
Just Enjoy
Servings
4
Ingredients
Semisweet chocolate chips

2⁄3 Cup (10.67 tbs)

Vegetable oil

1 Tablespoon

Strawberries

30 Medium

(with hull attached)
Nutrition Facts
Serving size
Calories 194 Calories from Fat 92
% Daily Value*
Total Fat 11 g16.3%
Saturated Fat 2.9 g14.3%
Trans Fat 0 g
Cholesterol 0 mg
Sodium 76.3 mg3.2%
Total Carbohydrates 26 g8.6%
Dietary Fiber 1.8 g7.2%
Sugars 14.8 g
Protein 2 g3.1%
Vitamin A 0.2% Vitamin C 88.2%
Calcium 1.4% Iron 2.1%
*Based on a 2000 Calorie diet
Directions
Melt chocolate with oil in bowl set in hot water. Stir until chocolate has melted.

Wash strawberries and dry well. Gently grasp hull of berry and dip so that 2/3 of strawberry is covered with chocolate. Let it drain. Place on foil covered baking sheet, hull end up. Store in refrigerator until ready to serve.