»

Recipes

»

Cheese

»

Chocolate Cream Cheese Dessert
Chocolate Cream Cheese Dessert Recipe
Love to try out something yummy this season? Here's is an original and deliciously different recipe for Chocolate Cream Cheese Dessert for you to try. This dessert is indeed a treat for those with a sweet tooth!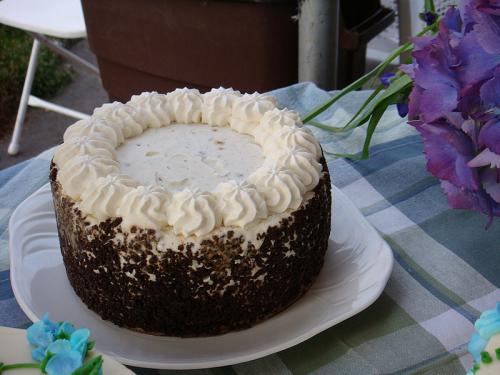 Summary
Preparation Time
30 Min
Cooking Time
2 Hr 0 Min
Ready In
2 Hr 30 Min
Difficulty Level
Easy
Health Index
Average
Servings
12
Ingredients
Cream cheese package

2

Vanilla wafers

1 1/2 Cup (16 tbs)

, crushed

Melted butter

1/4 Cup (16 tbs)

Sugar

1/2 Cup (16 tbs)

Mix chocolate

1/2 Cup (16 tbs)

, flavored

Vanilla extract

1 Teaspoon

Eggs – 4 nos ( separated )

Sour cream - 1 cup (1/2-pint container)

Sugar

1/3 Cup (16 tbs)

Heavy cream

1/2 Cup (16 tbs)

(Garnishing:)

Sugar

2 Tablespoon

(Garnishing:)

Salt

1 Dash

(Garnishing:)
Directions
Getting Ready
1. Let the cream cheese stand at room temperature until softened.

Making
2. In a large mixing bowl blend crushed wafers and melted butter.
3. Evenly line well-buttered 9-inch spring form pan with crumb mixture.
4. Refrigerate until chilled.
5. In large size mixing bowl beat the cheese until fluffy.
6. Combine the 1/2 cup sugar, chocolate-flavored mix, vanilla extract and salt; stir into slightly beaten egg yolks.
7. Blend chocolate mixture until they hold a soft peak.
8. Gradually whip 1/3 cup sugar and the egg whites until whites hold firm peaks.
9. Gently fold into cheese mixture.
10. Pour into crumb-lined pan.
11. Bake in slow oven (250° F.) for 2 hours (DO NOT OPEN OVEN DURING BAKING.) Remove from oven.
12. Set away from drafts until well cooled and remove sides of pan.

Serving
13. Whip heavy cream with 2 tablespoons sugar and garnish cake with whipped cream and shaved chocolate.