»

Recipes

»

Chocolate Chip Cheesecake
Chocolate Chip Cheesecake Recipe
Would you like to prepare this Chocolate Chip Cheesecake at home? This recipe is best for your preparation. I am telling this because I had tried this recipe personally on my son's birthday. Everybody appreciated the dish and I proved myself to be a good cook in my family. You too please try it and enjoy it with your family and friends.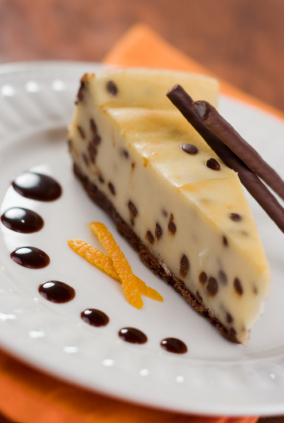 Ingredients
Graham cracker crumbs

2 Cup (32 tbs)

Butter

5 Tablespoon

, melted

Cream cheese

16 Ounce

, softened

Sugar

2 Cup (32 tbs)

Vanilla

2 Teaspoon

Eggs

5 Small

Chocolate chips

2 Cup (32 tbs)
Nutrition Facts
Serving size
Calories 1425 Calories from Fat 697
% Daily Value*
Total Fat 80 g122.3%
Saturated Fat 40.1 g200.3%
Trans Fat 0 g
Cholesterol 365.9 mg
Sodium 719.3 mg30%
Total Carbohydrates 170 g56.7%
Dietary Fiber 0 g
Sugars 137.9 g
Protein 16 g32.7%
Vitamin A 42.7% Vitamin C
Calcium 14.2% Iron 7.3%
*Based on a 2000 Calorie diet
Directions
Stage 1-Mix together first 3 ingredients and press in bottom of spring-form pan.

Stage 2-Cream together cream cheese, sugar and vanilla with an electric mixer.

Stage 3-Add eggs one at a time and it is very important to mix for an entire minute after each addition.

Stage 4-Stir chocolate chips into mixture.

Stage 5-Pour into spring-form pan and bake for 20 minutes at 350 degrees fareinhite.

Stage 6-Continue baking for an additional 50 minutes at 325 degrees fareinhite.

Stage 7 -Serve after the cheese cake is completely cool and refrigerated. Do not remove spring-form pan sides until you are ready to serve.