»

Recipes

»

Torte

»

Chocolate Strawberry Torte
Chocolate Strawberry Torte Recipe
Chocolate Strawberry Torte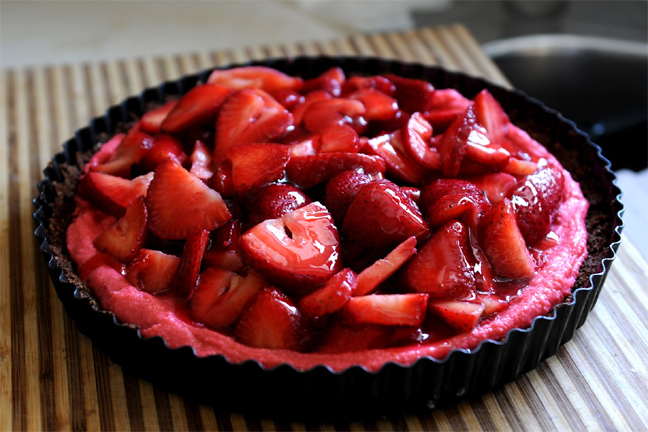 Ingredients
Eggs

4

Sugar

3/4 Cup (16 tbs)

Vanilla extract

1 Teaspoon

Pecans and walnuts

1 Cup (16 tbs)

Blanched almonds

1 Cup (16 tbs)

Unsweetened chocolate- 3 sq (1 -oz size) , coarsely grated

Packaged dry bread crumbs - 2 tablespoons

Baking powder

1 Teaspoon

Salt

1/4 Teaspoon

Strawberries

1 Pint

Currant jelly

1/4 Cup (16 tbs)

Pecans and walnuts

1/2 Cup (16 tbs)

, chopped

Heavy cream

1 Cup (16 tbs)
Directions
GETTING READY
1 Preheat the oven to 350F.
2 Lightly grease the bottom of 9-inch springform pan and dust with flour.

MAKING
3 In a large bowl, add in eggs and sugar.
4 Using an electric mixer, beat at high speed, until light and fluffy for 5 minutes.
5 Blend in vanilla.
6 On sheet of waxed paper, combine ground nuts, chocolate, bread crumbs, baking powder and salt.
7 Gradually add to the egg mixture.
8 Using a rubber spatula or wooden spoon, mix until well blended.
9 Transfer to the prepared pan, spreading evenly.
10 Bake for 30 to 35 minutes or until the surface springs back when gently pressed with fingertip.
11 Turn out on to rack.
12 Allow to cool completely.
13 Using a spatula, carefully loosen torte from the pan.
14 Transfer the torte to serving plate.
15 In a bowl, add the berries with melted jelly, toss together.
16 Arrange on top of torte.

SERVING
17 Garnish the edge with chopped nuts.
18 Serve with whipped cream.