»

Recipes

»

Bread

»

Chocolate Rich Crescent Croissants
Chocolate Rich Crescent Croissants Recipe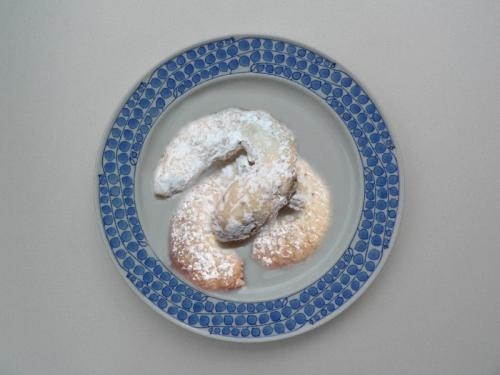 Ingredients
Refrigerated quick crescent dinner rolls

8 Ounce

(1 Can)

Margarine/Butter

2 Tablespoon

, softened

Sweet cooking chocolate

4 Ounce

(1 Bar)

Egg

1

, slightly beaten

Sliced almonds

2 Tablespoon

(Or Slivered)

Powdered sugar

2 Tablespoon
Nutrition Facts
Serving size: Complete recipe
Calories 1845 Calories from Fat 1277
% Daily Value*
Total Fat 147 g226.6%
Saturated Fat 58.3 g291.7%
Trans Fat 0 g
Cholesterol 548.6 mg
Sodium 1270.6 mg52.9%
Total Carbohydrates 121 g40.4%
Dietary Fiber 24.9 g99.8%
Sugars 50 g
Protein 54 g108.6%
Vitamin A 40.6% Vitamin C 0.05%
Calcium 40.5% Iron 127.8%
*Based on a 2000 Calorie diet
Directions
1. Heat oven to 375 degrees.
2. Separate dough into 8 triangles; press each slightly to enlarge.
3. Spread butter on each triangle.
4. Break or cut chocolate bar into small pieces (chocolate may break into irregular shapes).
5. Place an equal amount of chocolate pieces on shortest side of each triangle, Roll up; start at shortest side of each triangle and roll to opposite point.
6. Place rollls point-side-down on ungreased cookie sheet; curve into crescent shape.
7. Brush rolls with beaten egg; sprinkle with almonds.
8. Bake at 375 degrees for 11-13 minutes or until golden brown;
9. Cool. Sprinkle with powdered sugar.

Carlene Moore says :
What do you do with the butter? No place in the receipe does it say to use it?
Posted on:
4 July 2012 - 11:43am
Hi Carlene, guess the step was missed out in the recipe. I have re-written it for you. Hope you try the recipe. It is absolutely heavenly delicious! And if you make this for a brunch party, your friends will think you are a pro, who woke up at 5 am. to bake the croissants, when actually this recipe takes barely 20 minutes to put together!
Posted on:
4 July 2012 - 2:18pm