»

Recipes

»

Course

»

Chocolate-Pecan-Bourbon Pie
Chocolate-Pecan-Bourbon Pie Recipe
This is not only our signature pie but, more than that, I consider it my "lucky" pie. In addition to its being our first National Pie Championships winner, our customers voted it into Good Morning America's "Best Slice Challenge" contest. The segment aired just a few days before my first Thanksgiving in the shop, making it nearly impossible to keep this pie stocked for the holidays. To really blow your guests away, I recommend serving this pie warm with a drizzle of Bourbon Sauce (page 190) or a scoop of vanilla ice cream on top.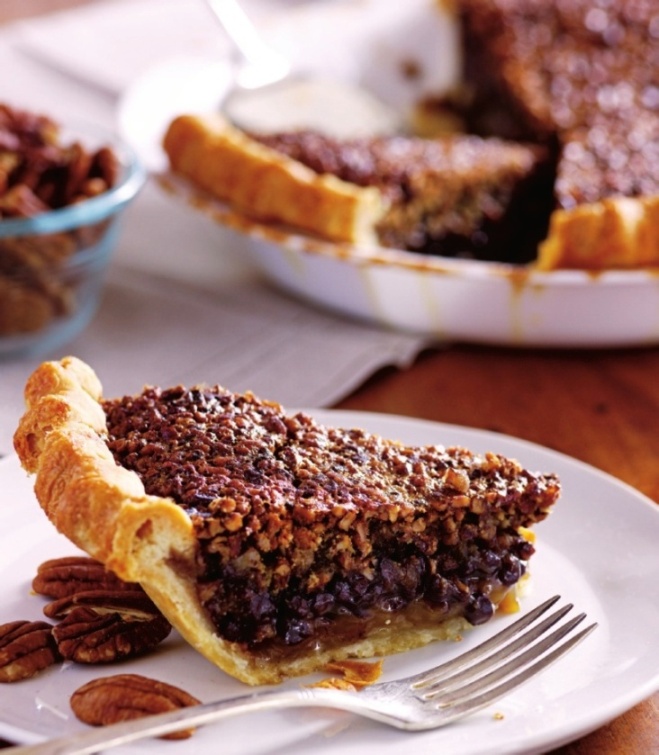 Ingredients
For crust

Pie crust dough

1 Cup (16 tbs)

(1 Recipe Traditional Pastry, For A 9-Inch Single-Crust Pie)

Heavy cream

1⁄4 Cup (4 tbs)

(To Glaze The Crimped Pie Edges)

For filling

Eggs

3 Large

(T Room Temperature)

Sugar

9 Tablespoon

(Cup Plus 1 Tablespoon)

Dark corn syrup

1 1⁄4 Cup (20 tbs)

Pure vanilla extract

1⁄2 Tablespoon

Bourbon

1 Tablespoon

Unsalted butter

5 Tablespoon

, melted and kept warm

Chopped pecans

1 1⁄2 Cup (24 tbs)

Semisweet chocolate chips

3⁄4 Cup (12 tbs)
Nutrition Facts
Serving size: Complete recipe
Calories 5461 Calories from Fat 2149
% Daily Value*
Total Fat 314 g482.7%
Saturated Fat 105.2 g525.9%
Trans Fat 0 g
Cholesterol 922.9 mg
Sodium 2469 mg102.9%
Total Carbohydrates 670 g223.3%
Dietary Fiber 16.4 g65.7%
Sugars 298.7 g
Protein 50 g99.3%
Vitamin A 71.7% Vitamin C 3.7%
Calcium 33.1% Iron 47.9%
*Based on a 2000 Calorie diet
Directions
Makes one 9-inch pie, 6 to 8 slices
Preheat the oven to 350°F.
To prepare the pie shell, on a clean, lightly floured work surface, roll out half a ball of dough with a rolling pin until it forms a 10-inch circle. Wrap the remaining half of the dough tightly in plastic wrap and reserve it in the refrigerator for future use for up to 5 days. Fold the circle in half, place it in a 9-inch pie plate so that the edges of the circle drop over the rim, and unfold the dough to completely cover the pie plate. Using your thumb and index finger, crimp the edges of the pie shell. Brush the edges of the pie shell with heavy cream to create a perfect, golden brown finish. Set the pie shell to the side while you make the filling.
To prepare the filling, using an electric mixer on medium speed, mix together the eggs, sugar, corn syrup, vanilla, and bourbon. Be sure to scrape the sides and bottom of the bowl at least 2 times while mixing. Add the warm melted butter and mix well. In a separate bowl, combine the pecans and chocolate chips. Sprinkle the pecan–chocolate chip mixture across the bottom of the pie shell. Pour the filling over the nuts and chips, covering them completely.
To bake, place the pie plate on a baking sheet and bake for 40 to 45 minutes, or until the pie is firm. The edges of the filling will rise, but the middle will remain a little loose. Don't worry about this—the pie will continue to bake after it's removed from the oven. Transfer the pie plate to a wire cooling rack and allow the pie to cool and set for 2 to 3 hours before serving.
If you choose, drizzle each slice with bourbon sauce to serve. Chocolate-Pecan-Bourbon Pie is best enjoyed either at room temperature or warmed at 350°F for about 10 minutes. It can be stored in the refrigerator for up to 5 days. When wrapped tightly with plastic wrap, it can also be frozen for up to 2 weeks.
The recipe is excerpted from
Perfect Pies
written by
Michele Stuart
. To purchase a copy of the book visit
www.amazon.com
.