»

Recipes

»

Cheese

»

Fondue

»

Chocolate Fruit Fondue
Chocolate Fruit Fondue Recipe
Get lucky enough to try this Chocolate Fruit Fondue. This Chocolate Fruit Fondue is never too hard on you yet tastes divine. You will agree with me once you prepare it!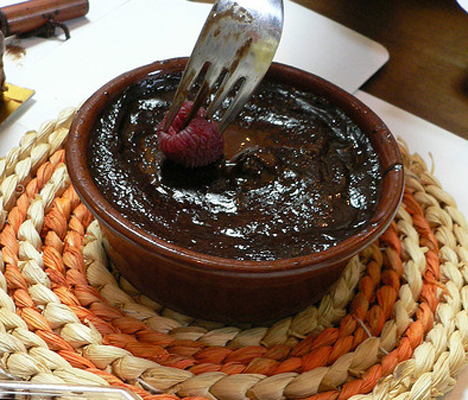 Ingredients
1 6-ounce package semisweet-chocolate pieces

Half and Half

1/4 Cup (16 tbs)

Vanilla extract

1/2 Teaspoon

Bananas

4 Small

Pears

2 Small

Strawberries

1 Pint

Almonds

1/2 Cup (16 tbs)

, finely chopped
Directions
1. In heavy 1-quart saucepan over low heat,heat chocolate pieces and half-and-half, stirring frequently, until chocolate is melted and mixture is smooth. Stir in vanilla; keep sauce warm.
2. To serve, arrange bananas, pears, and strawberries on large dessert platter. Spoon sauce into a small bowl; place nuts in another small bowl. Let each person cut fruit and dip into chocolate sauce with fork or toothpick, then into nuts.
Image Courtesy :
http://www.flickr.com/photos/travelstar/247474212/